Camping with Family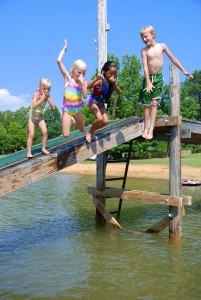 You are prepared and informed.  You've packed and you've planned. The only thing left to do is to get you and your family out the door and to actually, well, camp. If you're not feeling overly prepared read the article Preparing: Camping with Kids and Safety for Kids Before Camping. Here are some more camping with family tips to help you have a smooth journey, have fun cook-outs, what to do with your family around the campground, and how to document your family's memories about their camp trip.
Camping with Family
Getting There:
Most likely you'll be driving your family to your campsite, but don't make your first camp trip destination a great distance. Your mood can dampen quick to a backseat litany of, "Are we there yet?"
Make frequent stops (car sickness can occur inexplicably and at any time!)
Bring along toys and play car games ("I Spy", license plates, singing, ABC's, etc.) to keep the kids busy.
Have snacks prepared (it's amazing sometimes how quickly crankiness disappears with a little food).
Camp Menu:
So that you don't find yourself spending all your time cooking, keep your menu simple.
Bring along already prepared food in re-seal-able bags and Tupperware containers; this will cut down on the amount of prep-time for meals.
Washing up while camping can be a hassle, even if you're at a campground with running water. Plan meals that don't require using a lot of dishes and utensils.
Pack your cooking utensils in plastic tubs for easy cleaning. Make sure you bring everything on your checklist for cooking meals (pots and pans) and for clean-up (paper towels, garbage bags, etc.).
If you really can't handle the clean-up involved in campground cooking, consider packing disposable wares (paper plates, etc.).
Some kid friendly meals: Hot Dogs, Hamburgers, Sandwiches, Canned Soups, Corn on the Cob, Beans, etc.
Snacks: Dried or fresh fruit like apples, bananas and oranges, carrot or celery sticks, cheese and crackers, deli-sliced meats, trail mix, cereal bars, etc.
Don't forget the traditional campfire S'Mores: marshmallows, graham crackers, and solid milk chocolate bars. Or check out the article Bread on a Stick for an alternative warm campfire treat.
Around the Campground:
Teach your children about some basic safety tips (i.e.: show them what poisonous plants – like ivy – look like; make sure they know the proper behaviour around campfires; teach them to respect nature by picking up after themselves and knowing the right precautions about wild animals). Read Safety for Kids While Camping
Know and respect campground quiet hours.
Recruit the kids to help with camp chores. Make them fun – have a race to see who can collect the most kindling for a fire or fill up the water containers the fastest; best camp cooking; most organized gear; fastest clean-up; etc.
Have alternative activities planned in case of bad weather, boredom, or if your kids don't enjoy certain planned activities.
Take small hikes and walks to familiarize your kids with the area and with nature.
Go fishing, swimming, canoeing.
Go on a picnic.
Go for flashlight night walks.
Star-gaze.
Sing campfire songs, tell stories, roast marshmallows.
Here are some great Camping Books for Kids.
Creating Family Memories:
Don't forget your camera (with plenty of memory/ film/ flash/ batteries) for capturing the fun moments of your family's camp trip.
Disposable cameras are great for the outdoors and inexpensive enough to give one to each of your children to use.
If you have one, bring along your video camera.
Keep a journal, describing the deals about your trip and the activities you did. Have the kids keep one too.
When you get back home, create a scrapbook containing photos, excerpts from family members' journals, crafts that you did, kids' drawings, etc.
You've read enough to feel comfortable to take this trip with your family.  So, grab your sense of adventure and go camping!
Read more articles on Camping with Kids.
Author: Kirsten
(CampTrip Team)