How to Survive Camping With Kids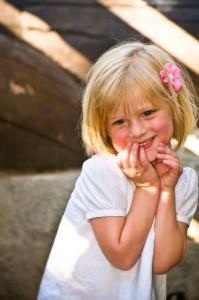 Heading out on a camping trip with your family? Are you worried about how you are going to manage living all that time outdoors with your kids? How can you possibly keep things sane when your kids comfortable environment has suddenly changed into an outdoor environment? Fear not! I have some tips on how to survive camping with your kids.
Tips on How to Survive Camping with Kids:
Accept the fact that you will get very little sleep– The little darlings will ALWAYS come running into your tent in the middle of the night because they have heard a scary noise (usually an owl or mouse, but somehow much more terrifying than the sounds of street fights and sirens wailing back at home).
Bring some sort of electrical entertainment– They will have x-box/play-station/wii withdrawal symptoms, so let them take a Nintendo DS or a similar hand-held device to make life more bearable for everybody. A heroin addict would be allowed methadone, so it's only fair, really.
Take more food than you think you will get through- The fresh air and physical activity means the kids will eat more than normal. A friend of mine arranged for the local supermarket to make a delivery to the campsite she was staying on – maybe not quite what camping is about, but pure genius if you ask me!
Arrange to go camping with other families– Having other children to play with will keep your own much happier and prevent those dreaded words: "I'm bored". Actually it would not be so bad if they said "I'm bored" but somehow they always say "IIIIIII'mmmmmmmm  boooooooooooooored", dragging the words out so that they're a torturous whine to your ears.
Take family board games for the evening– A great chance to have fun together. When they start arguing about whose turn it is just grit your teeth and keep smiling, because you are having fun.
Now you should feel better prepared on how to survive camping with kids. Seriously though, it is a great chance to bond with your children away from the demands of day to day life, so make the most of it.
Author: Karen Francis
Edited By: CampTrip.com