How to Camp With a Baby
Many of us have warm memories of childhood camping holidays with our parents and siblings. As well as being relaxed, there was always a sense of liberty, adventure and of being one with nature. We never doubted that we would have anything other than a happy vacation, but now that we are grown up and have families of our own, many of us shrink at the idea of sleeping under the stars with our own little darlings.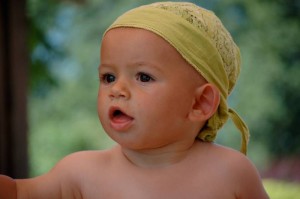 Supposing that camping is for those made of sterner stuff than ourselves, we book package holidays and spend hours checking-in at crowded airports and flying to beach destinations with a bored screaming baby who refuses to be pacified in such a small confined space. We smile apologetically to the rows of people around us and when Junior's vocals reach full throttle, we smile at anyone who makes eye contact with us in the vain hope that they might offer a little help. We arrive at our destination exhausted and spend the entire time fretting about the noise Junior will make in the hotel room. We worry that he will endeavour to climb over our fourth floor balcony, and so we keep the door shut at all times sealing ourselves in an airless, sun-trapped room. We put all thoughts of the return flight to the back of our mind taking comfort in the knowledge that the captain (however much he may want to) can't throw us off the plane mid-flight (however much the other passengers may beg him to). There is a solution to this dilemma: it's called camping…
I know what you are thinking: 'How can camping with an infant be anything other than torture?' The answer, as all decent girl guides and boy scouts will tell you, is to "be prepared". Here are a few of my from experience tips on…
How to Camp With Baby:
Choose a Family Friendly Campsite
There are plenty of excellent campsites that are family friendly and offer showers, toilets, and baby facilities. Often large sites have heated swimming pools and a shop selling essentials such as bread, milk, eggs and diapers. These sites are ideal if you are new to camping.
Bring a Compact Sleeping Cot
I would advise taking a travel cot rather than having your baby sleep in bed with you. Travel cots (portable cribs) can double up as a playpen during the day.  If your baby is not used to sleeping in a different bed, get him accustomed to the cot/crib before you travel. I found that using the cot/crib for daytime naps worked well.
Select Baby's Favorite Toys
Toys are essential. You don't need to take the entire toy chest with you; a couple of favorites will do (especially the ones that Baby likes to have close by at night-time).
Nighttime
If your baby likes to fall asleep to the sound of his musical cot/crib mobile, then take it with you. Favourite pacifiers will keep Baby happy.
Some babies sleep better with the glow of a street lamp peaking through their curtain or some outdoor noise filtering through the window. If you think your baby might find the peace and quiet of a campsite distracting, take a battery-operated nightlight and a CD player – together with babies favourite music – to play quietly in the background whilst he is falling asleep.
Baby Food
Jars of baby food can be quite bulky to take, especially if you are camping for longer than a weekend. Packets of dried food are easier to manage and easier to store; there is no risk of the contents overheating in the sun and spoiling when left in a warm tent all day.
Medical Kit
Medicines are essential. You can bet that if Junior hasn't already started teething, his first tooth will erupt when you are camping and there is no pharmacy close to hand. Remember to pack teething gel, analgesia, sunblock, anti-histamine cream and diaper rash cream. Here are some great first aid kits for babies or young children to bring when camping.
Diapers
Don't forget to take plenty of diaper sacks to wrap the dirty diapers in before you dispose of them. You don't want to be attracting flies around the campsite; it won't go down well with your fellow campers.
Baby Clothing
In some areas flies can be a problem. If this is the case then make sure you have some long sleeved clothing for baby. Remember that if the weather is cool, wearing layers of loose clothing is warmer (and more comfortable) than one or two layers of bulky clothing.
Infant Carrier
An essential item for all families camping with infants is an infant carrier. Carriers that are strapped to your back are the most useful; babies love the advantage of seeing where they are going. If it is a warm day remember sun hats and sunblock.
Important Camping Tips
Make your first camping trip short, maybe a weekend or mid-week break. Give your young one a chance to get used to the different surroundings. A couple of short trips are usually all it takes for babies and young children to acclimatize to a different way of living.
Cell/Mobile Phones – For peace of mind it is better to travel to areas where you can use your phone. Being off the beaten track with no phone signal and a screaming baby is no fun, even if the screams are only due to colic which will soon subside.
Most important of all – enjoy your vacation and remember that it is now your turn to create warm memories of camping holidays which, in years to come, your own children will look back on with fondness. I hope that my how to camp with a baby tips will help ease the tension so you too can get out and enjoy camping with your baby.
Author: Susannah Knights
Edited By: CampTrip.com