Dutch Oven Orange Chicken Breasts
One of the best ways to make any dish stand out is not to overpower it with too much of a contrasting flavour – that's what amateurs do. Instead, just add a "pinch" of it in your dish, enough to get your guest intrigued enough by this combination to ask you for the recipe. (Trust me, they always do.)
And what food is better prepared for the job than the orange, whose delicious juices can penetrate and infuse chicken breasts with a sweet, yet subtle flavour that will make you and your guests swoon when this dish touches your taste buds. So let's look at a recipe for chicken breasts that desperately calls for orange juice from the depths of your Dutch oven and just so the menu is complete, we'll pair this sweet dish with a more neutral but just as tasty, mushroom sauce. Did you just say "yummy?"…
Orange Chicken Breasts – A Slightly Non-Conformist, Yet Delicious Dutch oven Dish
The Ingredients:
The listed ingredients are meant for 3 servings and are prepared in a 10-inch Dutch oven. You can adapt this recipe for a 12-inch Dutch oven by simply adding an extra 50% of everything or by doubling everything for a 14-inch Dutch oven. The ingredients are listed in the order they'll be used.
·2 tablespoons olive oil or any cooking oil
·3 chicken breast halves
·3 teaspoons Dijon mustard or Dijon mustard substitute
·Salt and pepper
·1 large onion, diced
·3 tablespoons butter, cut into 6 cubes
·1 cup freshly-squeezed orange juice
·1 tablespoon packed brown sugar
Directions:
1. Pour the olive oil into the Dutch oven and pre-heat to 350˚ Fahrenheit by using about half of the required charcoals at first, both on top and bottom and adding the remaining coals after a few minutes. (Remember, the ratio of coals for roasting is 1:1.)
2. Cover the chicken breast halves with the Dijon mustard or Dijon mustard substitute.
3. Place the chicken breast, skin side down, into the pre-heated Dutch oven. Add salt and pepper to taste. Sprinkle onion over the chicken breasts and place 2 cubes of butter on each piece. Pour the orange juice into the pan, but be careful not to pour over the chicken as this might "wash away" the seasoning.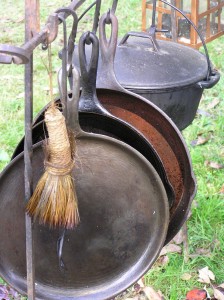 4. Cover with the lid and cook for 25 minutes. Baste once after 10 minutes.
5. After 25 minutes, gently turn the chicken breast on the other side (the skin side should be yellow or lightly brown) and sprinkle with the brown sugar.
6. Replace lid and bake for another 10-15 minutes. If you have a meat thermometer, check and see when your chicken has reached an internal temperature of 165˚, which is the temperature the chicken should be when it's done.
7. Serve on a plate with some of the orange juice left in the Dutch oven, or check the recipe for the mushroom sauce later in this article.
This recipe will offer your chicken a sweet, but subtle taste. It won't be overwhelming by any stretch of the imagination. However, you can use more orange juice or any of the oranges' cousins such as tangerines, mandarins or minneolas, and more brown sugar if you want to "turn things up a notch."
Would you Like to be an Apothecary? As already stated, it's the orange juice that gives the chicken breasts their flavour. But what if you're not much of a sweet tooth and want to create your own concoction of something sour or bitter, rather than sweet? You can combine half of cup of orange juice with half of cup of grapefruit, lemon or lime juice. Or, you can forget orange juice altogether – it's up to you.
Also, you can add a pinch or more of lemon sugar to your brown sugar, if you want to experiment. Be careful to not add too much, as lemon sugar has a very strong sour taste that can be unpleasant if over-used.
The Mushroom Sauce – The Chicken's Best Friend:
Some people would find the taste of the orange sauce too sweet, and would like to match the chicken with a more neutral sauce, but one that doesn't take long to make. And what better option is there than the mushroom sauce, the perfect companion for chicken dishes? Let's see how it's made.
Ingredients for Mushroom Sauce:
·Butter or olive oil
·2 shallots or red onions, diced
·4-5 garlic cloves, minced
·1 pound mushrooms, sliced
·1 cup vegetable stock or 1 cup water
·½ teaspoon dried thyme
·4 tablespoons cream
·Salt and pepper to taste
Directions for Mushroom Sauce:
1. In your Dutch oven or Dutch oven's lid, turned upside down, or in a large skillet, heat up the butter or olive oil over low to medium heat.
2. Add the shallots (or red onions) and garlic, and sauté for about 2 minutes, until the shallots become translucent.
3. Add the mushrooms, and cook for about 5-6 minutes until tender, by gently stirring them so all the pieces get cooked. It might be that this amount of mushrooms seems large, but in just a few minutes they'll shrink considerably.
4. Add 1 cup vegetable stock (or 1 cup water), stir in ½ teaspoons of dried thyme and simmer for about 10 minutes.
5. After 10 minutes, stir in cream, tablespoon by tablespoon, and taste after each one, because different creams have different consistencies and different tastes. If after just one or two tablespoons you think it's enough, stop there
6. Let simmer for another minute or two and then add salt and pepper to taste.
7. Serve with the orange chicken breasts.
For those of you who like thicker sauces, you can add more vegetable stock and thicken it with cornstarch or arrowroot. Others might omit the cream altogether, although I think it enriches the taste and gives the sauce a nice colour. You can also run this sauce through a blender, or use a portable blender to make this sauce smoother – it's up to you. Another option is to prepare this sauce in advance at home, store in the refrigerator and take it with you when cooking outdoors.
Author Bio:
Daniel Dutch likes to cook all kinds of things in his Dutch oven when he's out camping with his friends and family.
You can find more of his recipes at his website, 
www.OutdoorDutchOvenCooking.info
Author: Daniel Dutch
Edited By: The CampTrip Team