Camping for Girls: Peeing Outside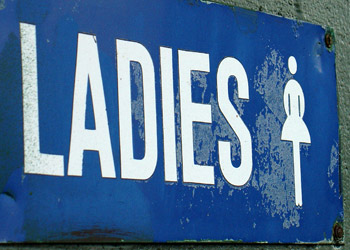 You're on a camping trip. The sunset was stunning and for the first time in months you were able to watch it. Out here in the woods, the peaceful evening settles over you as you and your friends sit around a camp fire exchanging childhood memories, silly ghost stories and a few cold beers from the cooler someone was smart enough to remember. It's perfect, you're in paradise, not even the mosquitoes could ruin your night. Then…nature calls. Suddenly, with a crushing finality, your night is ruined. Your stomach feels bloated and uncomfortable. Your jeans start to feel tight over your bladder. There's no way you can laugh at one more joke without committing an embarrassing blunder. What now?
The fine woodsy gentlemen reading this may not quite understand the discomfort and uncertainty that marked the last half of the above paragraph but, undoubtedly, all the ladies know exactly what I mean. When you don't have a handy aiming device built right in by good old Mother Nature, you're pretty much screwed in this department. Kind of feels like we got the short end of the stick. Ladies, I am here to tell you that the world does not end when your bladder is full! In fact, below are seven ways for girls to pee outside while handling the situation with some measure of dignity….some.
How to Pee Outside: For Girls
Before You Pee:
Find a secluded spot to do your business.
Make sure your spot is at least 200 feet away from flowing water. No one wants to drink that.
Ensure you are not on a slope where the liquid lands on the ground but then flows towards your shoes. Another great way to prevent this is to do your business on ground that absorbs (ie. grass or soft soil etc). The soft ground will absorb the liquid rather than hard ground (ie.cement or very dry dirt) which will repel the liquid causing it to splat onto your legs and shoes.
Bring toilet paper with you (leaves will not feel good); and bring a plastic bag because you can't leave your wipes on the ground.
When relieving yourself in the woods, never let your pants drop past your knees. If you push them down to your ankles you'll have to explain the wet spot to your friends.
Peeing Positions:
The Squat
The only unassisted way to pee in the woods. If you have thighs of steel this one's for you. It requires you to hold the squat position while you are relieving and wiping, so it takes some serious muscle. Move you feet apart to find a good balance, pull your pants down but not past your knees. Crouch/ squat down as if you are sitting in a very low chair. Use one hand to pull your pants which are around your knees towards your knee caps to keep everything out of the line of fire. Make sure you keep your bottom out and low. Just think of yourself as sitting on a very low chair or stool. This position may seem difficult at first but with enough practice it can be mastered. If you aren't quite buff enough, read on.
The Buddy System
This one is not for the meek. To pull this one off you need a friend who has seen you pee, or who is willing to try anything once. The two of you stand face to face and lock hands. Then lean away from each other and squat so that your thighs are parallel to the ground. Now you can both go at once, but don't let go, or you are certain to lose your friend.
The Throne
It turns out Mother Nature did provide some assistance. Press your back against a tree, so that your thighs are parallel to the ground. Make sure your feet are squarely planted on the ground – you do not want to fall! You may begin to feel like you're sitting on an imaginary throne at this point. Extra points if you're on a hill, facing up, so that the liquid runs away from your shoes. Otherwise, be cautious.
The Tripod
This is basically the buddy system, but with a tree! One more reason to hug a tree! Find a tree with a thinner trunk (but not a sapling that may not support you) and grip it tightly. Your feet should be at the base of the tree. Stick your bottom out and go.
The Assist
If you have the good luck of finding a fallen log or a tree stump, you can basically sit down on it. Scoot forward as far as you can without falling off and let loose. Just make sure you keep your legs and feet out of the way and make sure you pull your pants in the direction away from you.
The Products for Peeing Outside
There are a few different products on the market that range from $8-$20. The idea is that they are a simulated aimer. The appendage we were not granted when it came time to grant appendages. It looks kind of like a sports cup with a straw coming out of it. It can be purchased from these fine retailers: pStyle
, Freshette
, Go Girl . Apparently you can make your own with a funnel and some rubber tubing, but I haven't tried it. Or read up on the TravelJohn-Disposable Urinal Bag, a bag you can pee into and the contents will solidify for easy clean up. The TravelJohn-Disposable Urinal Bag is ideal to have when camping, it is made solely for those inconvenient moments.
Now you, too, can feel free in the great outdoors. Good luck!
For more tips on girls camping read Girl's Guide to Surviving Your First Camping Trip. After all, nature is beautiful but nature is not always the kindest when it comes to our appearance.
If you enjoyed reading this then you might enjoy reading our other articles on the site. Sign up to our newsletter on the right hand side of the screen to receive all the latest and greatest on camping and the outdoors. We promise we will not share your details or bombard your e-mail inbox.
Author: A.R. Colton
Edited by: CampTrip.com