How to: Stay Beautiful in the Great Outdoors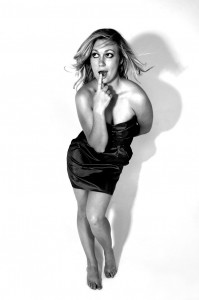 Whether you are hiking in the mountains, attending a music festival or spending a week in a field, camping is an inexpensive and enjoyable way to bond with your friends and family. However, when you can't shower for three days and your skin is covered with a thin film of dirt, feeling gorgeous and looking hot takes a little creativity. You don't have to sacrifice looking good for time spent in the wilderness; you just have to adjust your normal beauty routine and learn how to stay beautiful in the great outdoors. Going camping can leave you wondering how you will be able to look amazing without the mirrors, straighteners, huge make-up bags and wardrobes.  A camptrip definitely takes you out of your beauty element when it comes to the modern conveniences of blowdryers and bubble baths. With careful planning and a few simple tricks, you can still look radiantly lovely and refreshed until your return to civilization.
Dress to Impress
You may be the prettiest woman on the campsite but if you are dressed inappropriately, you will always look silly – and that is not a good style for anyone.
Wear light, comfortable clothes. Check weather reports to be sure the clothes you are bringing are appropriate for the conditions.
Plan your outfits. It sounds a little organized for the great outdoors, but this is not the time to throw a bunch of random clothing items in a bag and sort it out later. Only pack what you will feel comfortable wearing, high heels should definatly be left at home! Always bring extra clean socks and underwear!
It's okay to be weird. When you are camping, normal fashion rules do not apply and you can get away with a more eccentric style – so embrace it and have fun!
Don't worry about accessories – you will lose them. The only accessories you should be bringing are sunglasses and a hat….maybe a belt.
Pack clothes that either don't wrinkle or are supposed to look wrinkled. A good tip is to roll your clothing instead of folding as this will limit creases.
Don't obsess about feeling you have to wear a different outfit each day, especially when the chances are that you're going to see your traveling companions in the same jeans, shorts and shirts throughout the whole camping trip.
Rapunzel, Rapunzel, Let down your Hair!
Normally, at home you might wash your hair every day or every other day, but this may not be an option when camping. If you have long hair and wear it down the first day, it will get dirty quicker. Take extra rubber bands and start the trip off with your hair pulled back to keep it cleaner for longer.
Those with oily hair should try a dry shampoo and remember; bandannas and braids are the camping girl's friend.
Choose a hairstyle that requires very little work. A French braid, a loose chignon, or a ponytail will neatly keep your hair off your face and out of your eyes. Of course a cap or a sun hat will not only shield your eyes but will also help you get through bad hair days.
If you regularly use a lot of hairspray at home to keep your locks in place, you'll need to find a substitute (i.e., gel or mousse) Airborne chemicals could potentially endanger plants and wildlife.
Pretty as a Picture
Take a plastic spritzer bottle and fill it with cool water. Spray it over your face throughout your day for a fresh, dewey look that will also keep your skin healthy and hydrated.
Pack light when it comes to your make up kit. Opt for a small jar of moisturiser, a brush-on mineral powder foundation (which will be lighter than a liquid foundation), a little eye shadow, mascara and lip gloss. All of these should fit easily in a small plastic bag. You don't need eye cream, moisturizer, lotion and hand cream on a camptrip. A tinted moisturizer with sunblock provides coverage and protects you from the sun, and colored lip-gloss goes a long way as well.
Pre packed wipes will help to freshen up, when it is not possible to shower. Make sure you choose the unscented so as not to attract the bugs and mosquitos.
Waterproof mascara – enough said. If you're going swimming, or end up sweating like a beast in the hot summer sun (which is possible!) you NEED this.
Gorgeous Inside and Out
Smile and laugh. Happiness can take years off your looks and make you feel younger inside, too.
Get out and sunbathe! Get a glowing tan and the holiday will be worthwhile!
Pack a gentle facial cleanser, water proof SPF 30 sunscreen and Vaseline.
Use a light fragrance body mist instead of heavy perfumes or lotions. The latter items are likely to attract bees and other bugs which can increase your chances of bites and stings. How stylish can you look if you're constantly swatting away winged beasties?
Smell fresh! Just because you can't shower doesn't mean you have to smell bad. A wash cloth and a little unscented soap and water goes a long way and are great for cat baths (cleaning under arms, hands, feet and privates).
Spritz yourself with a light and healthy body spray, like rose water (no stinky chemical perfumes!) or try a few drops of essential oil in a water sprayer for a fast freshening mist.
Exude confidence! Confidence is the most attractive quality a person can have!
So just flutter those eyelashes and at night in front of the campfire put your hair in a ponytail. Even though you probably won't be looking as glamorous as you usually do, it's okay! You should be more concerned with having fun anyway!
Feed your Body and your Mind
Make sure that you also use unscented deodorant, and soap. Attracting the bugs will make your camping trip misery, and you will end up full of bug bites.
Shoes are important. In fact, when traveling, hiking and camping, shoes are the most important item in your bag. Never wear new shoes on a camptrip and high heels, as I mentioned earler are a definate no-no!  Also pack a pair of comfy shoes like flip-flops or trainers (weather depending) to wear when relaxing back at the campsite.
Drink extra water and eat lots of fruit! Always remember to stay hydrated while spending lots of time outdoors. Extra water is a must while camping, for everything from cleaning dishes to brushing your teeth. Also, don't forego fruit entirely for hotdogs and s'mores. Stick a couple apples in your coolbox!
Finally, don't worry about your looks. One of the great things about camping is that you are removed from your daily frets and worries, and this includes, "Is my lipstick smeared?" Getting back to basics with a minimal make up and hair regimen is essential for enjoying your time camping and also gives you more time to enjoy the great outdoors and relax around the campfire with a chilled glass of wine. Leave the mass of beauty products at home, dab on some lip gloss, throw on some old jeans and you'll be sitting pretty!
Happy camping beautiful people!
Author: Rosie Austin