If Camping: Leave Your Heels at Home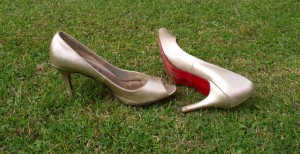 It has been nearly forty-five years since my first and only camping trip, but I remember it as if it were yesterday! My best camping tip would be, if camping: leave your heels at home! I had been invited by a very special young man and his parents. All I had ever known about camping was that there were no showers – and that there were plenty of bugs! I accepted the invitation and immediately began packing my "essentials": bug spray (of course), but also my make-up bag, pantyhose, and an item I never go without – my heels. I was going to show nature that to go camping, you don't have to sacrifice glamor.
The Journey
We began our scenic trip by being told that I was riding in the back seat between my boyfriend and my boyfriend's nasty kid sister who hated everyone who did not wear braces. I think I was strategically placed in that seat to prevent her from stabbing her brother. At least now, she would have to reach over me to get to him (I just had to hope then that she hadn't gotten a hand on my "killer" stilettos).
Whoever said that singing songs would help the time to pass quickly? I think I learned every word of some silly song about" beers on the wall"".  I really couldn't have cared less.
Anyway, there was no GPS System back then so we had to rely on my boyfriend's father's sense of direction. That added almost three additional hours to the trip!
The Destination
Finally there (after consulting several park rangers, one policeman, and a gas station worker), we piled out from the station wagon. I could barely feel my legs – and I hadn't even begun walking in these heels! When I asked where the "cabins" were everyone laughed. My boyfriend's mother proudly showed me the lovely view from the mountain – and a funny looking tent that had no air conditioning!
When I was told that we would have to "catch" our dinner, I had great cravings for Burger King. There were five people on this trip – and after four hours, they had caught only three fish.
Night-time was a cacophony of every weird sound that one could imagine. I slept with all of my clothes on, including my pantyhose. If I was going to be some creature's dinner, I was going to look good. I could not wait until morning arrived.
The crisp mountain air was a welcome change from the stale air of the city. While my boyfriend's parents were trying to show me all of the beauty that I could possibly take in, I could not help but think of the many lovely runway models who had never seen a stream up close, nor fought something furry for her make-up case. I was trying to decide if the beauty and peacefulness of nature was worth the runs in pantyhose, make-up applied without the assistance of a full-size mirror, and heels that were in danger of snapping off thanks to uneven terrain.  It would seem that my glamor was taking a backseat when faced with nature's own glamorous surroundings.
The Finale
I thanked my boyfriend's parents for the trip. As they dropped me off at my house, I could still hear them singing that "beer on the wall" song as I dashed into the air-conditioned house with the stale air and the level ground. Camping was an interesting experience, but I believe heels were made for a greater purpose other than to aerate grass. If camping: leave your heels at home!
Author: Paulette Jones
Edited By: CampTrip.com