Festival Camping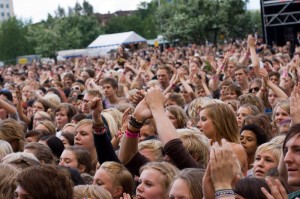 The festival season is now upon us and with my first ever festival experience fast approaching, I thought I would do some research as to what my friend Lisa and I should expect…
The biggest and best festivals always involve camping; so far so good!
But be aware, as I have learned, festival camping bears no resemblance to my much loved ordinary leisure camping and if like myself, this is your first festival, put aside any ideas you have about waking up to birdsong, the smell of fresh air and greenery filling wide open spaces, with clean shower blocks and toilets; the only similarities being that you might use a sleeping bag and sleep outdoors in a tent. Keep these pointers in mind for stress free festival camping. Also be open minded and prepared for the following:
It is more than likely that you will be surrounded by tents and they will be pitched within close proximity of your own, no matter how long or far out you try to extend those guy ropes!
Your standards of personal hygiene may slip a little. Be prepared to spend the weekend in mud encrusted shorts, hoodies, t-shirts and wellies! (just remember to pack clean underwear!) If you are concerened about 'bad hair days' then take a hat!
You may stand in line for hours to use incredibly smelly toilets… (but relax, no one ever died of plague or caught cholera from using a festival porta-loo, even though they are unpleasent)
You will pay over the odds for everything from a bottle of water or a burger to a souvenir T-shirt or cap.
If you were thinking of taking anything to make you look beautiful in the great outdoors that runs of mains electricity… do not bother, leave it at home! Festival camping really is all about 'getting back to basics!' So leave the mirrors, curling tongs, hair dryer and iron at home!
With all of the above in mind, don't let it put you off! Just remember that you are going there to enjoy yourself! So smile, loosen up, prepare to get a bit muddy and more importantly… let your hair down and have fun, it doesn't matter what you look like! Here are some tips on how to survive your festival camping experience for the first time.
Festival Top Tips
The Tent: Always choose a bigger one than you need! This is probably the biggest mistake people make and something I have always wondered about when I have seen pictures of festival sites, all the tents look tiny! A 2-man tent is for 2 people lying side by side in sleeping bags, but it does not account for the mountains of stuff you will be bringing along with you! Always go 1 bigger as a minimum to allow for clothes, coolboxes and those muddy wellies! Make sure that it is easy to pitch too… just in case your friends are a little less than helpful!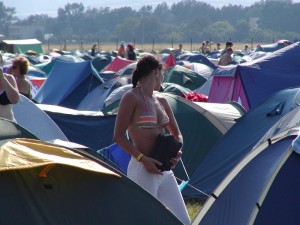 Arrive early to choose your spot: Arrive early for the best choice of pitches. Pitch your tent within sight of landmarks you will remember and that will still be visible when you wake up to a field covered in thousands of other tents. Choose a spot as far away from the toilets as you can because it won't be long before they stink to high heaven.
Claim you space!  Do whatever you can to mark out your territory if you don't want to wake up within a foot of someone elses tent in the morning. Remember this is festival camping so the usual rules don't apply! People will pitch anywhere and everywhere in desperation. A windbreak set in front of your tent can give you a little more privacy and much needed extra space, perfect if the weather is nice and you can sit outside and enjoy that cup of tea and fry up in the morning!
Pitch in a circle: If you go as a group, then try to pitch your tents in a circle. Making sure all your openings face inwards; that way if the heavens do open unexpectedly (which is likely if you live in the UK) you can sit in your tents, stay warm and dry with the flaps open chatting to each other.
Know your tent: It might seem stupid after all you know what your tent looks like right? Wrong! In a field full of a thousand tents… and after a few beers they will all look the same, especially after dark! So try adding a giant flag, a windsock (try to get one that is a bit unusual) or even some balloons on a pole to make your tent stand out.
Make friends with your neighbours:  Getting to know the people who have pitched their tents near yours will add to your festival experience and also to the amount of eyes that will watch over your tent when your not there; (a bit like neighbourhood watch; camping style!)
Don't lock up!  Don't be tempted to put a lock on your tent. Whilst it might seem like a good idea it simply highlights to any would be thieves that you have something worth stealing inside. And lets face it; tents are not made from bricks and mortar, they are easy to rip or tear into so you would also wasting your time. To be safe don't take anything with you that you are not prepared to lose… (this includes your friends!)
Hide your valuables when asleep:  Do not make it easy for thieves by stuffing your money or valuables in your boots, then leaving them b!y the front of the tent Put them inside you sleeping bag or by your head under the pillow so they are safe and the furthest away from the entrance.
Plan for disaster!   Trust me, if you have a friend like mine… you will need a disaster plan!! And with the vast amount of guy ropes and tent pegs that will be pegged in each and every direction, it is likely that the odd person will fall over and tents do not offer a lot of support! Take some gaffa tape with you to repair or patch up any broken poles if needed and a First aid kit… just in case!
Light up the night!   Make sure you take plenty of lighting with you… battery operated lanterns, dynamo torches and glo-sticks can add to the fun and festival atmosphere and will also help you find your way back to the tent after dark.
Festival Essentials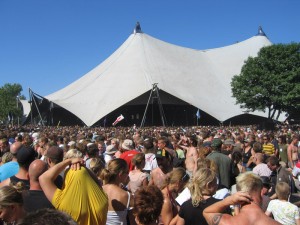 Despite the obvious of your tent, money and tickets, here are some ideas for gear you should consider taking.
Ear Plugs:  It might sound silly but trust me when your trying to get to sleep with people snoring, (including the person you are sharing the tent with!) talking and playing music within a few feet of  you, you will be glad you've got them. Earplugs are essential!
Rucksack:  Ideal for your camera, sunhat, sunglasses, mobile phone, snacks, water and suncream. Make sure it is well secured, especially if you have got valubles inside.
Food and Drink:  There are always vast amounts of food outlets at festivals for those who are prepared to queue for ages and pay a fortune for a greasy burger! If that doesn't tickle your taste buds; fill your coolbox with food that is easy to prepare, along with crisps, snacks and nibbles as these will be hard to come by. Cereal bars are also a good idea for a simple and nutritious breakfast. If you are taking alcohol, remember to decant into plastic bottles as glass is band from many festivals for obvious reasons. Don't forget to take plenty of drinking water too, (freezing a few bottles beforehand will keep your coolbox cooler for longer!) and maybe some energy drinks.
Emergency Facilities:  Festival toilets have improved over the years, but it is advisable to avoid them when possible! Taking along a 'Bog in a bag' or a 'Shewee' will mean you don't have to leave your tent in the middle of the night in the dark, cold & wet weather searching for some stinking toilets. Pack yourself some loo rolls too and keep them dry and to hand!
Head Torch:  You might look like an alien in the dark but trust me, you will be glad you've got your hands free when your scrabbling around trying to find things (or your friend) during the night.
Waterproofs:  The good old British summer time always likes to throw in a shower or two so be prepared. Take at least one extra set of clothes. There is nothing worse than trying to dry a wet pair of jeans in your tent overnight! Also pack some lightweight waterproof clothing… just in case!
Warm Sleeping Bag:  It might be summer time but it will get cold at night so spend some extra money and invest it in a decent sleeping bag. A good nights sleep will help you get the most out of your festival experience – so make sure you are as comfy as possible when you turn in for the night… why not take your quilt for some added comfort?
Bin bags:  You will need somewhere to put your dirty clothes and they are great for keeping your clean clothes dry should your tent leak. Keep all your rubbish and dump it at the end of the weekend in one of the festival bins. Bin bags are also handy to sit on should the ground become wet and muddy!
Wet Wipes:  You won't have the luxury of a shower so you will need something to freshen you up and these are the best solution. Wet wipes are also handy for wiping anything and everything, so keep a few packs in the tent and in your rucksack for while you are out and about.
Antibacterial Hand Gel:   Take loads of the stuff! It is handy for through the day as finding a sink to wash your hands before or after eating will be tricky. If you are brave enough to use them; festival toilets normally supply free hand gel but it will run out in no time; so don't forget to take your own… and lots of it!
Be Prepared:  It may be hot, sunny, wet, dry or chilly – though in the UK it's likely to be a little bit of everything varying from day to night. Take a selection of clothing to wear according to the weather. Layers are the key and sunglasses, sunhats and suncream are absolutely essential!
Stay safe!  Keep in touch with your friends via your mobile phones, check in every now and then and arrange meet ups in advance. Stick together with a group and tell your friends where you expect to be and when. Do not wander off into dark corners of the crowd on your own. Be careful what you drink and who you accept drink from. Bottles at festivals are receptacles for all sorts of unpleasant waste. And no matter how warm and friendly the crowd seems – you never know what's in a drink accepted from a stranger.
Happy Camping!
Author: Rosie Austin
The CampTrip Team