Camping Supplies for Music Festivals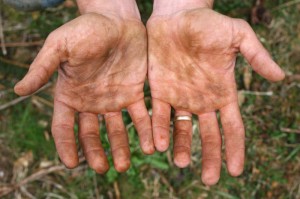 I don't think of myself as a real camper as I only camp at Glastonbury, UK and other music festivals; but, eleven festivals later (including two with a toddler), I have worked out some things that might be useful to you on your own camping trip.
Camping Supplies for Music Festivals:
Pillow
Firstly, pack a pillow – put it in a bin liner (garbage bag) and tie it with string to your backpack.  It won't weigh anything and it'll improve your life immeasurably.
Rain Boots
Secondly – in the UK at least – your Wellies (rain boots) are your friends and they need to come with you, as does the rest of your waterproof clothing.
Clothing
Thirdly – Only take a change of clothes for every other day – but clean underwear for every day!
More Essential Camping Supplies:
Bin liners (which act as refuse bags, ground mats, rain coats and much more)
Sun cream
A bottle for refilling with water
Snacks that can't melt (like biscuits, nuts, etc.)
Toothbrush and a towel
Baby wipes (preferably biodegradable ones) – loads of them; they'll clean everything, everywhere!
Nothing else is really needed when camping apart from a sense of humour and a sense of fun! Just trust me on the Baby wipes!
Happy camping!
Author: Tabitha Owens
Edited by: CampTrip.com