Finding Your Tent in the Dark at Music Festivals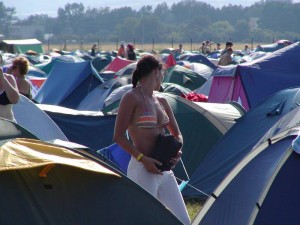 Music festivals usually last for two or three days; the campsites are characterized by fields covered in tents. So how do you find your tent after dark? Here are my tips for finding your tent in the dark at music festivals.
Tips For Finding Your Tent:
Flashlight or Torches– Take a torch (flashlight) or head torch with you when you go to the music arena so that you have a way to see after dark.
Solar Lights– Place two or three solar lights near your tent or encampment. They will come on after dark and help you recognize your tent.
Reflective Tape– Put some reflective tape on your tent in an unusual pattern so that when you shine your torch (flashlight) across a large area, your tent will shriek out, "Here I am!"
If you have a flag or banner which you leave up near your tent, put reflective strips on it as as well.
Glow Sticks– Hang a light stick from the centre of your tent so that the tent glows from a distance.
Glow Bracelets– You could also attach glow bracelets/sticks to the outside of your tent so you can see from a far which tent is yours. You can buy glow sticks and most dollar stores or pound shops. Glow sticks are quite inexpensive and can be very useful!
Tips on What Not to Do To Find Your Tent:
Never navigate by memorization of  movable objects– Such as other tents or vans (nothing worse than finding that they left early and someone else is in their place!).
Never take shortcuts– These are filled with guy ropes and other trip hazards. So stick to the paths.
The truth is, you are bound to get a little lost when darkness falls and you find yourself in a sea of tents. Hopefully, these tips will help you in finding your tent in the dark at music festivals. Just remember to keep calm, don't panic, you'll find it eventually…
Author: Sarah Fraser
Edited by: CampTrip.com