Camping With Kids: Touring the USA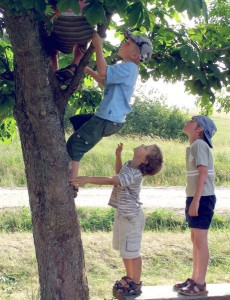 Camping with kids could be either a nightmare, or an experience of a lifetime. When my boys were ages 6, 8 and 10, I loaded them up in our SUV with nothing more than a tent and a cooler, and headed west. I knew I would be camping with kids in the USA but I had no destination, no expectations or time frame. It was summer vacation and I was about making memories. In my mind, I was going to make a big loop around the country, and see all that this beautiful nation has to offer. The only rule I followed was; we sleep some place new every night.
Camping with Kids in the USA:
Long Car Rides
Traveling long hours in the car with kids needs to be entertaining or it won't be fun for anyone.
Before I even started out, we made a deal, we only would stop every 2 hours, we would fill up our bellies, the gas tank, and empty the bladder. I made sure we picked a rest stop that had a playground or hiking trails so we all could burn off some energy.
I brought non-messy snacks like fruit roll ups, and cheese, and drinks that were not loaded with carbs and sugar.
Our favorite game was to play the ABC sign game (The object of the game is to complete the alphabet first.  As you see the letters on billboards & license plates you shout out your letter and point.  Once a letter has been claimed other players cannot use the same letter.  Make the game more challenging by limiting  letters to only license plates or billboard signs).
When we weren't playing that; we were looking for license plates from every state. I had also purchased a simple travel trivia game about the states, so that maybe they might learn something about the states we were traveling through.
Rest Stops
When your camping with kids in the USA and you have long drives everyday it's important to make stops so they can get out and stretch their legs and minds. I find if you don't make stops every so often kids start to get a bit cranky. So, at every stop, I checked out the travel brochures to see what was in the area that the kids might be interested in seeing. If something got their attention, we aimed in that direction. When we were in Wisconsin, we found what was in my son's opinions the best part of the trip. Some one had welded together a school bus and a helicopter, and gave monster truck rides through the woods were the climax would be to "crush" a car. It really doesn't take much to make a kid happy, it's about the new experience. They enjoyed that 15 minutes more than 5 minutes we spent at Mt. Rushmore. At the time they weren't to impressed with Mt. Rushmore, after all it was just a bunch of carved rocks, and nothing to get the adrenalin pumping. But to humor me, I took their photo in front of the monument.
Seeing the Sites
By the end of what turned out to be about two and a half weeks, and my son's beginning to get a bit homesick we had covered all the northern states between New York and Wyoming. We panned for gold. That was a huge success in their eyes, though I think we made a collective total of $4.00 in a half day of labor. We camped on the land of a real one armed cowboy. We saw a reenactment of a Wild West shoot out, and when one of the actors let one of my son's hold a real old west gun, that made the day!  We rode a tram to the top of Jackson Hole and were able to see further than we ever could imagine in NY. We saw bears and moose, and swam in hot springs, and saw old faithful (another great photo op)
Take Photo's
Two things I did during the trip that I am so glad that I thought to do was, take photos, this has helped them with their geography classes and history classes over the years. Remember Mr. Rushmore? Now they can say "HEY! I was there, and it is in South Dakota!" Through photos they remember seeing Old faithful, and the forest fires with the helicopters fighting the flames. They now watch the news and pay close attention to how much devastation those fires can cause.
Keep a Journal
The other thing I did was; every evening just as we were winding down for the night, I made them write in a journal one thing that they did that day. They use those too along with the photo albums to reminisce.
Now that the boys are older, and I ask what they liked best about that trip, they each tell me that they can't decide on one thing, it was the experience, the whole memory.
That is what I learned after camping with kids int the USA. I hope this experience will help other families who decide to take the car, cooler and kids to hit the open road.
Author: Jill Madden
Edited By: CampTrip.com