Cooking Bread on a Stick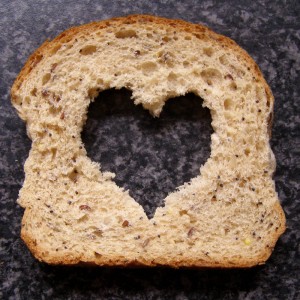 There's a certain art to cooking things on sticks. We've all made S'mores, shoving marshmallows onto sticks and trying to cook them over a far too large flame of the campfire. The results are often sticks with balls of flaming goo on the end. They're more or less edible and certainly fulfill the day's dietary requirements for carbon, but they're not pretty.
Cooking on Sticks Over the Campfire
Cooking things on sticks over a campfire requires a certain consideration for materials and methods. Igniting a marshmallow may be impressive when you're twelve years old and impervious to the damage that molten marshmallow can have on bare skin; but the true connoisseur of camping food knows that the highest achievement is bread on a stick.
Cooking Bread on a Stick:
Take one can of biscuit dough and separate it into its individual biscuity parts. (This is your bread).
Take one biscuit and roll it between your hands until it's long enough to wind around a stick.
The choice of stick is important–make sure it's clean and free of bark. (Nobody likes surprise crunchy bits in their bread).
Once you've got the bread-and-stick setup ready, put it over the fire.
This may seem like the most obvious thing in the world, but remember those flaming marshmallows. Find a spot where the fire has died down to glowing coals and hold your stick so that the bread is as horizontal as possible. If the dough starts turning black, you've got it too close to the fire.  When you find a good spot, hold the stick there and rotate it occasionally so that the bread cooks evenly. It's done when the dough-turned-bread is golden brown and firm on the outside. So, they next time you go camping try cooking bread on a stick – you might just love it!
After getting some feedback about this article "Cooking Bread on a Stick" there have been some more suggestions on what else you can cook on sticks while camping!
What Else to Cook on a Stick:
Slide some hot dog or chorizo sausage on the stick and enclose it with your bread dough. For a savoury "pig in a blanket treat"!- via GlamperGourmet
You can buy pizza dough balls from your local Pizza Shop and then cook the pizza dough over the campfire on a stick! I'm sure if you brought some of those yummy pizza crust dipping sauces it would be even better! -via Moose Bait
Here's a different take – Cook the Cinnamon roll dough from the pre- made dough roll packages ie. Pillsbury. I'm pretty sure there is nothing better than waking up to a nice warm Cinnamon treat when camping! via –Camping Blogger
If you know of some more fun Camping Recipes or other things you can Cook Over the Campfire we would love to hear them! Please share your thoughts in the comment box below.
Author: Heather Campbell
Edited by: CampTrip.com