A Guide to Outdoor Clothing for Camping
As with any other outdoor activity, you need to dress appropriately when you go camping. Temperatures outdoors can pose a safety hazard, and when you're hiking in the wilderness, your only options are what you carry with you. Proper preparation will help you to dress for camping appropriately.
Outdoor Clothing for Camping
The clothing you need for camping trips will vary depending on many things such as: your camping location, the group size and age range, time of year and weather, the amenities available at your campsite and your activity agenda.
Family camping holidays at a popular holiday site will require a much more relaxed wardrobe than say an extreme camping or climbing expedition – but whatever type of trip you have in mind, it's always necessary to think about the essentials especially if travelling with children.
Some outdoor clothing, because of their hi-tech specifications, can be expensive. But that doesn't mean that you should sacrifice safety and protection for cheaper alternatives. You can find many top name brands at outlet stores, including leading names like Regatta (and you can get discount outdoor clothing from Regatta Outlet online).
Protective Clothing and the Weather
It's always important to pack for the weather, which as we know here in England can be very changeable, so it is always best to be prepared! Unlike a hotel holiday, you will be exposed to the great outdoors for pretty much most of your day and night and there will be no luxuries of indoor heating or air conditioning systems. So the first thing you need to think about is protection.
Summer Protection:
Sunglasses – UV protection for your eyes is often overlooked but the sun can cause permanent damage to your eyes if you don't keep them protected.
Hats and caps – sunhats and hats with wide brims can keep your head cool and your face shaded from the sun.
Moisture wicking clothing – if you plan on being very active on your camping trip, buy mesh lined lightweight jackets or tops with wicking properties. These can keep you dry even when you sweat.
UV Clothing – some outdoor brands, including Regatta, can offer a range of UV protective clothing which gives you peace of mind and that added safety to just using sun cream.
Winter Protection:
Waterproof jacket – it is always necessary to bring a waterproof when camping, no matter what time of year it is. Pack-away jackets or foldable jackets make a convenient choice for walkers as they can be stored in a backpack.
Fleece mid layer – mid layers are handy when it's cold outside as they provide another layer of warmth.
Thermal base layers – if you are planning an extreme camping trip, a thermal layer will keep you warm even when the temperature drops at night.
Outdoor footwear – when you're faced with the winter elements of rain, snow, ice and mud, it's important to have shoes that will keep your feet comfortable and dry.
You should always carry an extra pair of socks with you when you go camping. If your feet get wet and your socks are soaked, a dry pair is essential to stave off cold in your extremities.
Do your best to plan ahead and wherever possible check the weather reports for the area you are travelling to. This will assist you with as what type of outdoor clothing you will need to take and pack for your trip, weather it be warm and waterproof or cool and loose clothing.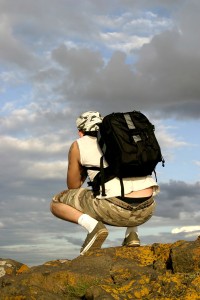 A tip to ease over packing is to roll items and pack them into zip lock bags. This way you can have your clothing ready and easily accessible each day and it will also be protected from damp and kept relatively crease free! This is a great way to pack clothing for the kids as they can easily lay their hands on what to wear for that day without fussing around choosing clothes which can often leave tents in a mess.
Overall I suggest that you layout everything you are planning to take on the trip. Be sure to pack a rain jacket even if the weather is sunny as showers are sometimes unpredicted. If you are camping or hiking in a sunny area you should consider clothing that is designed to protect you from the sun rather than just relying on sunblock.
Most important of all, dress comfortably and enjoy your camping experience!
Author: Amellia Hope
Edited by the CampTrip Team.