Tips on Being Prepared for Extreme Camping
If you are thinking about heading out into the great wilderness please make sure you are prepared and well equipped for many of the problems that can arise. Below are my tips on being prepared for extreme camping, how to make sure you are fully and safely equipped before you head off the beaten track on an extreme camping trip.
Being Prepared for the Wilderness:
Keep Warm and Dry
If you don't want to go down the mainstream camping route then you need to ensure that you're fully prepared for every eventuality that a true camping experience can throw at you. Being unprepared in the great outdoors can be fatal, especially if you prefer to travel alone, which is why it's vital to be prepared! There are certain companies such as RV Ops who specialise in extreme survival equipment such as bushcraft knives and tools as well as heavy duty clothing which can stand the test of the outdoors.
Water Proof vs Water Resistant – Make Sure You Know the Difference
One of the main factors that can turn a regular camping trip into a trip not intended for the faint hearted is the weather, especially if your trip takes you to somewhere in the UK or to other cold climates. If there is even the slightest chance of rain you need to make sure your equipment is heavy duty enough to stand the test of severe weather. If you are going to be exposed to heavy rain you need to make sure that when you purchase your equipment it is labelled as water proof as opposed to water resistant as water resistant products will only protect you in mild conditions.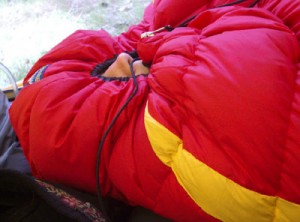 When it comes to sleeping bags, this is not the time to be buying a bargain number from your local department store. It might seem like good value at the time but that isn't going to be the case when you are freezing and miserable at 2am. Make sure that you get a durable high quality sleeping bag, such as Snugpak from Nightgear and make sure you check it before you unroll it in the great outdoors to ensure things like zips are in full working order.
You don't have to be Ray Mears or Bear Grylls to venture off the beaten track but it is imperative for your own personal safety that you are fully equipped to deal with any extreme survivor eventualities that may come your way.
Author: Amellia Hope
Edited By: CampTrip.com