Top Travel Tips for Long Trips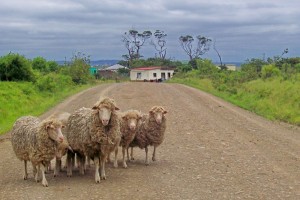 Have you ever wanted to just pack up and set off to a faraway place with sun, sea and sand, breathtaking views and endless places to explore?
If you are lucky enough to be able to take a year out to travel, there are many things to take into account, weather it be driving to France or Spain or travelling around Europe!
This guide will help you through the main points of planning and funding your long-term adventure!
A road trip is an opportunity for couples, families and friends to experience new scenery, develop a deeper appreciation of a new country, make friends in unexpected places, and get to know one another other a little better minus the ongoing distractions of day-to-day life. An open mind, a flexible agenda and a sense of humour are critical to a road trip's success and can generate memories that will last long after you've pulled back into the garage.
Planning Your Trip
Determine your destination, time frame and budget. Decide what the purpose of this trip will be. While the primary objective is to spend quality time together with loved ones and see new things, the road trip could also have an educational component to it or be part of a journey to check out a new city in anticipation of an upcoming move. Recruit older children to research destinations and print out information for a road trip travel folder. The more input everyone has in the planning process, the less likely they are to subsequently complain that they're not having fun.
Plan the route you want to take and put together a rough draft timetable based on your comfort level with long drives and the amount of time you want to devote to each stop. Determine whether you're going to be doing all of the driving yourself or trading off with other adult passengers. Depending on the season, check regional road advisories in advance to make sure that you won't experience delays or closures. Keep an eye on long-range weather forecasts as well.
Check out the availability of lodging along your route that accommodates your lifestyle and wallet. This is crucial if your trip coincides with community festivals, major sporting events or annual celebrations such as Mardi Gras.
Finance Your Trip
If you are traveling for longer periods, consider setting up an international bank account such as LloydsTSB International for those from the UK. This can make things much easier for you once on the road. Clear transparency on charges or even free international transfers between your home and international account are just some of the great benefits.
Pack Economically
The fun of a road trip diminishes pretty fast if your fellow travellers are wedged between suitcases, coolers and camping equipment. Most people tend to pack way more than they need without realizing that items like parkas, caps, socks and t-shirts can usually be found wherever it is they're going. Have snacks and bottled water on hand for those long stretches between stops.
Safe and Sound
It's also crucial to carry chargers for your cell phone(s) and GPS so that you can always make contact if you get lost or stranded.
Provide relatives and close neighbours with an itinerary of your road trip.
In case of an emergency, it's also a good idea to keep your personal details with them. This can even include your bank details in case you need an international money transfer to your account.
Have your car, van or RV thoroughly serviced by a mechanic prior to the trip to ensure that brakes, tires and fluids are road-ready for your adventure.
Tips & Warnings
Stay flexible. Nothing has to be carved in stone on a road trip, especially if a delay or a detour leads you to sights and experiences you might never have discovered if all had gone according to plan.
Take a camera and keep a travel journal in which everyone can jot down their impressions and observations.
Collect souvenirs such as postcards, matchbooks, brochures and restaurant business cards to help you remember the details of where you went and what you did.
Don't try to cover too much ground in one day. Not only will this be hazardous if you get sleepy behind the wheel, but you'll also be too stressed and punchy to enjoy the sights along the way.
Make arrangements for someone to watch your house while you're away on an extended road trip. Place a hold on the mail, cancel newspaper deliveries, and put interior lights on alternating timers to give the impression someone is at home.
Author: Rosie Austin
(The CampTrip Team)