Tips to Organize Your Maps When Backpacking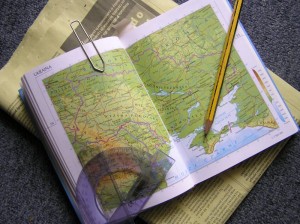 I love back-packing long distance trails, but what a lot of maps to carry!  Two years ago I plotted my own 'Coast to Coast' route from Southport to Scarborough in England.  I needed eleven Ordnance Survey Explorer maps to cover the 200 mile walk. It goes without saying, if your maps are disorganized the maps won't help you they will hinder you. Here are my tips to organize your maps when backpacking.
Tips to Cut Down Weight, Cost and Confusion:
Browse second hand book shops for used maps– The roads and towns will have changed over the years but the footpaths will still be where the map says they are, especially in the National Parks.  (Younger back-packers will need to know that PH means Public House and PC means Public Convenience!)
Remove the covers carefully by sliding a knife under the glued part– Leave the covers at home.
Number the maps in the order you are going to use them- On each map, mark the spot where you plan to exit and the number of the next map (if it's double-sided, use two numbers). On the next map, mark the point of entry and the number of the map you've just completed.  It's much better to have done this at home than to find yourself on a windy hillside 'lost' between two maps.
Don't rely on linear maps which chop a designated trail into sections and fit them all on one sheet– If you stray outside the printed boundaries, you will have no way of locating your position.
For each map, take a stamped envelope addressed to your home– When you've finished with the map, you can post it.  As they begin to plop through the family letterbox, everyone will know you're still alive and well.  I like to write 'Wish you were here' on the back!
Hopefully these tips to organize your maps when backpacking will help you out on your trip! Good luck and have fun!
Author: Kay Ellis
Edited By: CampTrip.com