Backpacking Tips: You're not too Old to Backpack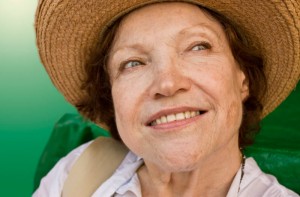 After my children grew up and left home, I decided to walk the Cumbria Way –  a beautiful 70 mile trail across the mountains and valleys of the Lake District of England.  I had pre-booked accommodation for each night so my itinerary was fixed.  How I envied the freedom of the backpackers I met, but could a sixty-year-old woman carry enough gear for a solo camping trip? Don't just think it, do it! You're not too old to backpack!
Some Backpacking Tips For When you Do:
Backpacking Preparations
Last year I returned to the Lakes and was finally able to sleep under the stars, carrying a rucksack which was not much bigger than my daughter's handbag (what do they put in those huge bags?).
The project started with a lot of internet research and a few on-line purchases.
The Gelert Solo Ultra-Lite tent weighed in at 1.5 kgs when it arrived, and a high proportion of the weight was in the tent pegs, so I swapped them for light ones, reducing it overall to 900g.
Backpacking the Cumbria Way Trail in the Lake Districts of England:
Sleeping
I planned to do my walks in the summer months, so I opted for a single season lightweight sleeping bag (350g).  I was glad to have made an experimental trip before my long walk, because it wasn't warm enough on high ground, even in July.  I inserted it into a Gortex Paclite bivouac bag (300g), which kept it dry in my rucksack as well as providing an extra layer.  I found room for a couple of long-sleeved base layers as well.
Food and Toilets
With sleeping arrangements sorted, my next concerns were food, water and going to the toilet.  Water is heavy stuff so I carried only a half-litre bottle but I was able to top it up safely from streams by adding a purifying tablet.
Happily, I resolved the food and toilet problems with the same simple solution:  pubs!  The walk had to include pubs.  Most of the low-lying villages had one and they were marked on the maps.
Planning the Daily Route and Routine
Setting off at dawn each morning, I picked out a route which would get me to the chosen pub in time for lunch.  At the same time I bought a few food items for supper and breakfast, from a shop if there was one, or from the pub.  There was no need to carry any cooking equipment at all (although I did miss my morning cup of tea).
In the late afternoon, after a pleasant rest befitting my age, I took the uphill trails at an hour when everyone else was coming down.  This routine enabled me to travel light, but it also gave me a very special experience.  In those summer hours of dawn and dusk, I had the high peaks all to myself.
In the evening, I rambled over moors and fells until fading light told me it was time to pitch up.
A fiery sunset over Devoke Water was a typical supper-time spectacle.  I dined on walnut cake and salami sticks that evening.  I remember wondering what a bottle of wine would have weighed.
As darkness descended, the familiar pricks of light in the black sky transformed into clouds of galaxies and then a full moon rose gigantically from behind the eastern ridges, throwing its silver ribbon along the lake.
The sense of belonging, to a timeless pre-history, was powerful and I knew I was hooked, destined to be a back-packing pensioner for as many years as possible.
Five Backpacking Tips on Things I Learned the Hard Way:
Practise putting up your tent until you can do it in the dark in ten minutes.
If rain sets in for the day, cover up with a poncho before your coat gets saturated.
Protect your spare dry clothes by putting them in a freezer bag.
Keep your mobile phone in a freezer bag too.
The pub is not always open!  Carry a few extra sandwiches.
The Most Useful Item:
Nylon typhoon poncho- Even when it wasn't raining, the morning grass was very wet.  I could lay all my gear on the poncho, or inside it, while I dismantled the tent.
Author: Kay Ellis
Edited By: CampTrip.com