Tips for Lightweight Camping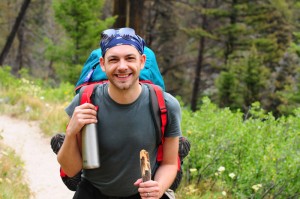 I recently completed a four day solo camping trip in Finnish Lapland, just north of the Arctic Circle. My complete outfit weighed twenty-nine pounds.
I know there are ultralight campers who carry even less, but in my experience, most people take far too much and there really is no need. Here's some tips which come from experience.
How to go Lightweight Camping:
Get a modern tent
When I started camping in the eighties, a two man tent weighed over twelve pounds. The modern equivalent weighs three pounds. Fabric technology has really moved on.
Pack dehydrated food
Assuming that water is plentiful, foil sachets of dehydrated food are the best choice for longer trips. The weight saving is significant.
Use an alcohol stove or a modern heat exchanger butane/propane stove
The Swedish Mini Trangia or a home-made Pepsi can stove have no moving parts, they weigh very little and virtually never go wrong. That's my preference. However the modern type of butane/propane stoves incorporate a heat exchanger in the pot base and a pot cosy to keep the contents warm, that makes them so efficient even a small fuel canister lasts a long time.
Use an LED head flashlight with lithium cells
You need to keep your hands free. Incandescent bulbs are less efficient, less reliable and are obsolete technology. Lithium cells are lighter, last longer and have a terrific shelf life. In the Arctic I left the flashlight behind – the sun never really sets in the Arctic summer.
Know more, carry less
I know people who carry a steel trowel for toilet purposes. But if you are in forested country, it takes thirty seconds to make a digging stick using your pocket knife.
For fast and light mountain trips where I'll be using walking poles, I ditch the tent and string up a silnylon tarp between the poles.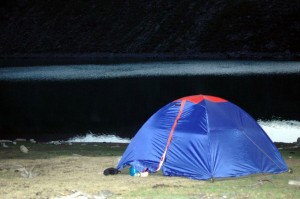 If environmental conditions allow, cooking on a wood fire saves your stove fuel for when a camp fire is not feasible.
Baby wipes are a convenient and lightweight way to wash and I don't shave on trips either. Saves a few more ounces.
Consider the latest sleeping mats for example, the Thermarest Neoair. Lighter and more comfortable.
Nothing beats goose down for warmth-to-weight ratio, a down sleeping bag will be lighter than an equivalent synthetic bag, but is useless if it gets wet.
The most important thing to camping to to have good quality lightweight camping gear. Without decent essentials you are more susceptible to have things go wrong; when they don't necessarily need to. It is well worth the investment to buy good camping gear the first time around so you wont find yourself constantly replacing items. This, will actually end up saving you money in the long run and also better prepare you for a (positive) unforgettable camping experience. Usually, when you buy reputable brands, they often do a far better job in preforming what they promise. Now good camping equipment doesn't have to cost you an arm and a leg. These days, you can even buy top ranges online. One online site that has some great choices on outdoor clothing is Outdoor Look. Every avid camper knows that if you don't start with the right clothing, especially light weight items, things can get very bulky very quickly.
Don't keep changing your kit
Pack things in the same place each time I often camp with friends of varying experience. You can tell who is an old hand at the game. Their outfit is well-used and battered, and they know exactly where everything is and how it works.
Flashlights in particular should be kept in the same place so you don't waste time in the dark trying to find it. Most modern outdoor clothing has a terrific number of pockets. You need a system of where to stow things.
Author: Peter Ewing
Edited By: The CampTrip Team