Camp-in-a-Box: Organized Camping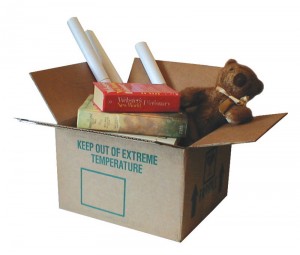 One of the benefits to car camping (loading your gear into your car and setting up camp close to where you park) over backpacking (carrying everything in a backpack to set up camp at a location that you've hiked to, further off a main road) is the freedom to bring more equipment along. This fact  makes your meals at camp all the more enjoyable. Camping simply out of a backpack has its own joys, but car camping is a way to get out in the woods and spend a few nights under the stars without having to leave behind *all* the amenities of home.
Camp-In-A-Box: Organized Camping
With the freedom to bring more stuff on your car camping trip, though, comes the temptation to throw everything from your kitchen into your trunk and take off.  One way to prevent taking all but the sink with you—and to prevent the back of your car from becoming an over-sized junk drawer—is to use a Camp-in-a-Box to pack your odds and ends.  This way, you can limit yourself to the amount and size of items that you bring along. As well, you can keep them organized and carry them in and out of the car to the campsite's picnic table with ease.
1. How To Make a Camp-In-A-Box
To make a Camp-in-a-Box, you will need a hard plastic "Action Packer" type box, available at most retail superstores or outdoor supply stores. They come in sizes up to 48 gallons.  Choose the size of your box according to the space available in your car and the dimensions of the most unwieldy item you plan to put inside.  If you drive a compact car, you'll need a smaller container than someone with an SUV—but you don't want to skimp on size and find out that your lantern is a tad too tall or your camp stove a smidgen too wide to fit inside the box.  On my most recent trip, we took a box 32" long, 17" wide, 13" high with everything we needed to set up a basic camp cooking area and had no trouble fitting it in the back of my friend's crossover vehicle.
2. What to Put In Your Camp-In-A-Box
Inside the box, you can pack all of the kitchen utensils that you will need on your camping trip:  camp stove and fuel, lantern, lighter, extra batteries, plastic plates and bowls, enamel coffee mugs, silverware, small cutting board, knife, spatula, serving spoon, can opener, percolator, cooking pots & pans, bowl for mixing food and for washing dishes, roll of trash bags, dish cloth, paper towels.  Once your essential items have been packed snugly inside, fill in the extra spaces of your Camp-in-a-Box with food items that don't need to be stored in a cooler:  coffee, canned foods, dried fruit, crackers, hot chocolate, granola bars, and other snacks.
3. Why Your Camp-In-A-Box is Useful
Packing these miscellaneous items in one large box keeps your campsite and your car trunk more organized for the duration of your trip; and it makes it easier to pack your cooking utensils in and out of the car if you're away from the campsite, hiking during the day. Your Camp-in-a-Box can double as a small table at your campsite. And it's a handy way to keep your camping gear organized in your garage when you're in between trips.
Author: Rebecca Henderson
Edited By: CampTrip.com