7 Tips on How to Pack For Young Kids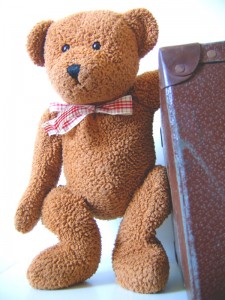 After having spent years camping with kids, I have learned a few things that I'd like to share with you. I hope that my 7 Tips on How to Pack For Young Kids camping advice and tips will help you when packing and camping with kids. If your camping trip involves young kids, here are some suggestions to make packing for them more efficient.
How to Pack For Young Kids When Camping:
1. All Packed and Ready to Go!
Let each child have his own bag—–with kid size camping equipment. In fact, having each child individualize their own bag makes it easier to locate items when in a hurry. Besides, letting each child have his own bag has been proven to make him feel proud of being looked upon as "old enough to be responsible for his belongings." This does wonders in making the experience enjoyable for him. Moreover, it is a step towards having them participate in choosing and preparing meals together, performing camping chores together, and cleaning up together.
2. Organization is Key
Assemble one major toiletry kit for all the kids, and two minor toiletry kits as extras.  Having one bag with all the toiletry items for the kids makes it easier when unpacking, and having the two extra minor ones for the kids also helps in having additional supplies when needed.
3. Check it off the Checklist!
Create packing lists for each child. List each item as it is packed into the child's bag, and then keep the itemization list in the suitcase. That way, when repacking at the close of the camping trip the itemization can be used as a checklist. Find helpful camping checklists here.
4. Emergency Essentials
In addition to each person on the camping trip having his own bag, make sure to likewise have a family bag of essentials [for emergencies]  that includes one outfit per everyone, as well as all necessary must-haves. This communal bag allows for quick access, quick unpacking and packing, and quick travel during emergencies.
5. Comfy and Cozy
Make sure each child is not too hot nor too cold. Thus, pack accordingly for any contingency regarding each child's comfort—–extra clothes, boots, diapers, blankets, first aid kit, books, toys for entertainment, etc.  Make sure each child is not excessively exposed to extremes of weather or the elements.
6. That's Entertainment!
Make sure each child is entertained and enjoys the camping experience. While traveling on the road to and from the campsite, play games regarding license plates, road signs, objects seen from car windows, name state capitals or name cities beginning with particular letters of the alphabet. Once at the campsite, make shadow puppets on the tent walls, go on scavenger hunts, sing camping songs together, even tell stories to one another around the campfire.  Far better would be to have each child have a disposable camera to take pictures that will chronicle their camping trip.
7. Keep it Clean
Have eco-friendly bags to protect delicate items inside your suitcase/camping-bag. Such eco-friendly bags will prove valuable for preventing dirty laundry or damp clothes from mixing with the good clothes.
So, there you have it! I hope my 7 tips on how to pack for young kids when camping helps you for your next camping trip adventure! The most important tips I can give you though are: Remember kids will be kids and sometimes the imperfections end up making things perfect.
Author: Marie Agravante
Edited By: CampTrip.com