Camping Checklist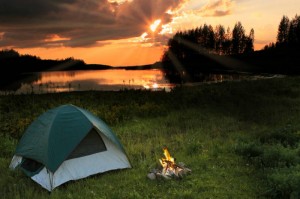 Camping checklists should not just be for the obsessively over-prepared. Of course, depending on what sort of camping activities you have planned for your camping trip, its duration, the weather conditions, and facilities already available, your personal and printable camping checklist will likely vary in needs and length. However, here are some suggested camping items that might be useful to pack before you hit the wilderness trail on your camping adventure.
You can download the CampTrip Camping Supply List Word Checklist or the PDF Checklist. They are free to use and amend! If you are a website or blog owner, we also have a Camping Checklist HTML version. If you do download the printable camping checklist we would appreciate if you would like it on Facebook or Tweet it. Thank you.
Your Ultimate Camping Checklist
Shelter:
Tent/Camper
Ground covers
Stakes/Poles
Tarp
Rope
Hammer/Axe
Brush/Dust pan
Collapsible chairs
Folding Table
Mats/Extra cloths
Bedding:
Sleeping bags
Pillows
Sleeping pad/Air mattress (air pump & air mattress repair kit)
Sheets, Blankets
Heavy plastic storage bags
Cooking-Related Utensils:
Stove/Dutch oven/Tin can stove/Box oven/Grill
Fuel/Propane
Buddy burner/Charcoal/Firewood
Matches/Lighter
Newspaper/Tissue
Saw/Axe
Water jugs/water buckets
Water filter/purifier
Cooler(s)
Thermoses
Canteen
Water bottles
Coffee pot
Frying pans, pots with lids
Food storing containers
Dish pan
Mixing bowls
Cutting board
Measuring cups
Plates, bowls, mugs, cups
Silverware
Disposable plates, cups, utensils
Cooking utensils (spatula, ladle, spoon, cutting knives, grill fork, peelers, can opener, bottle opener, tongs, skewers, strainer)
Scissors
Oven mitts/Potholders
Tablecloth/Clothes pins/clips/Thumb tacks
Paper towels
Napkins
Cooking oil/spray
Condiments/Salt/Sugar/Seasonings
Garbage bags
Aluminium foil
Re-sealable bags
Hand soap
Dish soap
Dish rags
Scrub pads/Sponges
Dish towels
Personal/Hygenic Items:
Toilet paper
Flip-flops/Crocs/Shower shoes
Washcloths
Towels
Soap
Travel-size shampoo and conditioner
Brush/Comb
Razor
Shaving Cream
Deodorant
Feminine products
Toothpaste and toothpaste
Water resistant travel bag
Shower pump/Camping shower and shower bag
Nail clippers
Tweezers
Scissors
Q-Tips
Cotton Swabs
Tissues
Make-up
Make-up remover
Sunscreen
Chapstick
Bug repellent/spray
Medication
Clothing/Apparel:
T-shirts
Long-sleeved shirts
Tank tops
Bras
Underwear
Shorts
Jeans
Pants
Swimsuits and towels
Socks
Boots
Runners
Sandals
Flip-flops
Belt
Hat (Sun-hat, baseball cap)
Bandana
PJs
Sweater/Jumper
Coat
Rain jacket/gear
Work gloves
Laundry Bag
Watches
Jewellry
Sunglasses
Miscellaneous:
Money/Credit Cards
Personal Identification
Maps/Directions
GPS/Compass
Reservation confirmation
Guidebook/Trail maps/Park guides
Extra batteries/bulbs
Lantern (fuel, pole or hanger)
Flashlights
Candles
Fire extinguisher
Umbrellas
Hand wipes
Small Sewing Kit
Whistle
Binoculars
Pocket knife
Rope/Bungi cord line/Clothes line
Duct or Electrical Tape
Shovel
Radio
Cell phone/Mobile, Chargers
Walkie Talkies/2-Way Radio
Travel-size alarm clock
Paper and pens
Fishing license/gear/bait
Bikes, helmets, air pump
Hammock
Collapsible drying rack
Backpacks, fanny packs
Cameras/Video cameras (batteries, film, chargers)
Books/Magazines
Musical devices (ie: players or instruments)
Cards/Games/Toys
Snacks (ie: popcorn, drinks (pop, tea bags, coffee, hot chocolate), S'more ingredients – marshmallows, solid chocolate bars, graham crackers
First-Aid Kit
First-Aid Kit:
First-Aid manual
Emergency contact numbers
Coins for emergency calls
Plastic bags
Road flares
Thermometer
Aspirin/Ibuprofen
Anti-acids
Heat/Cold packs
Roll bandages
Band-Aids
Adhesive tape
Antiseptic wipes
Sterile gauze pads
Ace bandages
Triangular bandages
Butterfly bandages
Sterile Compresses
Tissues
Scissors
Small mirror
Small flashlight
Safety pins
Twine
Tweezers
Cotton Swabs
Hydrogen Peroxide
Splinting materials
Latex gloves
Burn ointment
Sunburn lotion
Aloe vera
Sinus medication
Eye drops
Poison ivy cream
Snake-bite kit
Bee-sting kit
Ipecac
Antibiotic cream and soap
Antibacterial soap
Mole skin for blisters
If you enjoyed reading this then you might enjoy reading our other articles on the site. Sign up to our newsletter on the right hand side of the screen to receive all the latest and greatest on camping and the outdoors. We promise we will not share your details or bombard your e-mail inbox.
Author: Kirsten Reimer
(CampTrip Team)