Camping With Kids Requires Common Sense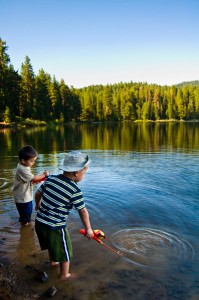 This is a guest post by Sharon Williams, she is an active mother of three and enjoys camping with her family. When she is not spending time outdoors or camping she works on her two websites Hobbies on a Budget and Real Life Deals. Both sites promote saving money and help you to do more with your dollar.
It was time! We had waited long enough! After all, our baby was almost three months old and our big boy was almost three. So we packed up our 15 year old tent, our Coleman stove and headed to the Great Smoky Mountains, leaving the Grandparents praying we would not freeze. The only thing we didn't do was check the weather forecast for the first week of April in Cades Cove National Park, Tennessee USA surrounded by the Smoky Mountains. Our first indication that we might be in for a cold time was the inch of snow as we approached the campground. Our second indicator was the fact that there were only two other tents in the entire campground.
We survived the cold and found out that camping with kids can actually be more fun than camping alone. Since then we have taken the kids camping several times and learned a few things about camping in the Smoky Mountains with children and babies. Camping with kids requires common sense…
4 Tips to Help you Camp With Your Kids:
1. Be Prepared for the Weather
Bring along extra clothes that you can layer on small children. Don't bother bringing anything with sentimental value. It WILL get dirty and may possibly even ruined by the campfire smoke, dirt, sand and elements.
2. Come Prepared with Very Few Toys
All you need is a bag of plastic cowboys and Indians with a few animals included. The best part of camping is the fact that the kids surroundings should offer all the adventure and entertainment they will need!
3. Keep the Kids Busy With Activities
Kids love to collect things and prove how strong they are. These two characteristics make collecting firewood and carrying 'the biggest stick' to the woodpile a huge game. I'll never forget my 6 year old bringing back the 'tree' hoisted high over head. His look of pride said it all. He was the "Man!".
Bring a deck of kids cards and a few books so you'll be ready when it rains. One of the most precious times of camping are cuddling with the kids under the sleeping bags, reading books while you listen to the drips of rain on the tent – until it starts to leak. Then be prepared by having a Ziploc bag stuffed in the tent pocket so you won't lose your books.
4. Make Sure Each Child has a set of Flip Flops
Kids of all ages can take them off on their own before they crawl into the tent and you don't have to spend a ton of time putting shoes back on when they realize it's time to run out and build their own stockade with the extra wood they gathered for the fire. (You can pick up an extra pair of flip flops at the Dollar Store for under $3.00. That way if it falls in the fire and gets scorched, you won't be out much money – personal experience).
Have Your Kids Enjoy all that Nature has to Offer
Those are just a few tips I have shared but remember, camping with kids requires common sense. If you can manage that, things should go a whole lot smoother for you. Just remember kids are simple creatures and if you put a bit of fun into your surroundings you shouldn't have to pack their whole room of toys along with you. Make camping fun, interesting and a learning experience for them. After all it's not everyday you get to sleep outside in a tent! We know we've done something right when we hear the kids (age 8, 6 and 3) begging to go camping again.
Who knows? Maybe this year we'll actually upgrade our tent and get something a little bigger? Probably not, our 15 year old tent may be small but it's still holding up after all these years! Plus the small tent keeps things cozy!
Enjoy the time camping with your kids!
Author: Sharon Williams
Edited By: CampTrip.com