Camping With a Vehicle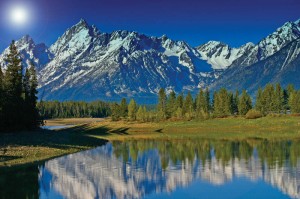 My husband Bill and I used to do a lot of camping and off-roading.  Bill never went anyplace without a plethora of supplies, tools and  equipment. This way, in the event of a car breakdown, he would have what he needed at hand to fix a vehicle or  to survive in a less than hospitable environment (we may be the only people to go on a day-trip into a California desert with arctic-type cold weather gear).
When You Need it Most
Only once in our entire marriage did he ever go on a camping trip and not bring vehicle repair tools. We were off road, high up in the mountains in the middle of nowhere (it's called Wyoming). It was so late in the year, it would be unlikely that anyone would pass that way again until the the following spring.  Since it was the ONLY time we ever went anyplace without tools and since  it was, after all, in the middle of nowhere, naturally it was the ONLY time we ever had a breakdown. Our UTV, while winding up a scary, precipitous path suddenly made this terrible and ominous sound; it the was the sound of silence. It had stopped.
When Camping With a Vehicle – Always Bring Emergency Supplies and Tools
Bill threw open the hood and, after not too long. realized what was wrong. At which point he started yelling and cursing so loudly, even the birds stopped singing.  He had no tools with which he could the fix the problem.  The upshot of that was that we might have, eventually, ended up dead on that mountain, buried under the soon to come snows.  No-one knew where we were, or when we were expected back.  Now I know what the "Donner Party" must have felt like when they realized that they were not going to get out of the mountains until the spring. Fortunately, Bill (who was sort of a genius with this sort of thing) managed to fix the UTV with a Swiss Army knife that he always kept with him. He very possibly saved our lives.
The  moral of this story is when camping with a vehicle: always remember to take along whatever emergency supply kit you think is necessary for your camping adventure. Emergencies don't often occur; but when they do, you'll want to be prepared. Not everyone can claim to have a Bill around.
Author: Ellen Denton
Edited By: CampTrip.com