Wowo Wonderland!
They say 'never judge a book by it's cover' and I say 'you should never judge a campsite by it's entrance!'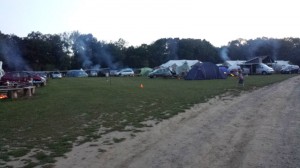 Hands up! I am a self confessed glamper and on arrival at WOWO campsite (Waspbourne Manor Farm), I thought my quilts and feather pillows had been packed in vein. But after the initial approach and first impressions of the surroundings, the girls and I found ourselves in a hidden wonderland! Ok, glamping this is not….. We were going back to basics with a bang! And to quote WOWO: "We are not trying to be a Butlins holiday park or a 5 star hotel. All our facilities are basic yet fully serviceable. Hot showers, loads of toilets and washing up sinks. Also at Wowo there are fridges, table tennis and swings and many more small touches that make Wapsbourne a more enjoyable site." I for one, could not agree more!


On Arrival
On this busy campsite located in the south of England which we had heard so much about, fields unfolded before us like carpets, with hidden corners, trails, rope swings, stepping stones and the sounds of the outdoors surrounded us. The campsite was busy with kids exploring and laughing as they swung from ropes on trees trying hard not to get wet in the shallow brooks below them. Adults looked relaxed as they soaked up the atmosphere and spent time with friends.
There is so much to explore at WOWO with four segregated fields: Lower Moat, Upper Moat, Lower Brook, Middle Brook and the cherry on the WOWO cake… the Tipi Trail! The camping fields were also surrounded by grassy areas, perfect for dog walking. Within this idyllic location the scent of campfires and barbecues from parents preparing dinner filled the air.
A Place to Pitch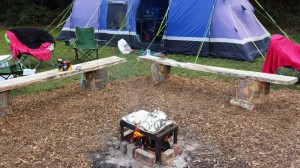 When we arrived we were greeted by the campsite staff who gave us a very warm welcome. They made sure we knew about all the events/activities that were on during our stay and answered all of our questions. We were given a detailed map and told to choose our pitch anywhere we liked.
We were lucky enough to find a lovely pitch, in Lower Moat, just in front of the woods and right beside one of the brooks, laden with rope swings.  There is plenty of green around the campsite and good spaces for pitching your tent – pretty much everywhere. You don't feel crammed in as you do with other campsites. They have a few forests that are open for exploring and adventures. They even have one forested area, the Tipi Trail, where you can pitch your tent in! The Tipi Trail is described as offering "privacy and seclusion, tree cover and the sound of running water" and it's true. This dedicated woodland offers an unforgettable experience for everyone. My favourite pitch within the Tipi trail was Frank's Spot: 'tranquil, secluded and peaceful… (until the girls and I landed!)
Campfires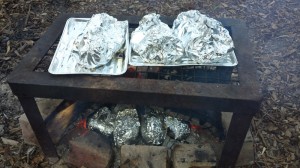 'The smell of the campfire fills the air, the smoke encapulates smells and aromas only found in the great outdoors!'
After we had unpacked, pitched the tent and explored we got down to setting up our long awaited campfire for the evening. All pitches at WOWO provide campfire pits – which was one of the main highlights of our stay. Very rarely do you find campsites that provide or even allow personal campfires – we knew we were in for a real treat!  A large crate of really good burning firewood was delivered to our pitch by one of the staff each night at around 5pm, at the cost of £5. Having no electric hook ups at WOWO meant that we did all of our cooking on the campfire… and we came up with some delicious meals along with toasted marshmallows of course (which are essential when camping).
Activities and Things to Do
Rope swings, (I must confess, the child in me just couldn't resist and I had to have a go!)  stepping stones, tyre swings and donkeys to feed are just a few of the things that will keep the kids busy at WOWO! We also made daily visits to the chicken coups, situated outside the main barn and reception,
in a bid to see if any more fresh eggs had been laid! My girls also found a great past time which was collecting clay from the banks of the brook and whilst they became very messy and muddy in the process, created some beautiful clay models which we left to dry in the sun then brought home to paint and decorate.
Saturday evening is when the village, located in Lower Moat, comes alive as they serve homemade locally sourced soup and bread for all campers. Shows, courses, live acoustic music and lessons such as Bushcraft and Circus tricks can also be enjoyed during your stay, depending on the time of year. You can find out more about the range of activities this campground offers on their website.
Overall Impression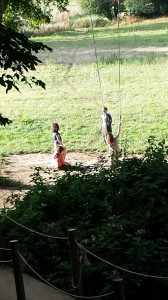 The aim of the campground is to provide a natural camping experience with pits for campfires, surrounding trees, trails and forests for you to explore. It is an ideal campground for families – a child's haven with so much to do, things to explore and play with. Overall the facilities were sufficient and we had everything we needed. The campsite provided an excellent dish washing area, hot showers with good pressure and a huge converted barn made into a lovely lounge and games room. There is even a piano if you fancy palying the odd tune! There was also a little shop with local produce, home made bread, organic and healthy specialty foods and other necessities, including firewood, ice creams and marshmallows. All the staff we met were extremely friendly and happy to help with anything we needed.
If you're not so keen on tent camping, check out their range of glamping options, which is basically glamorous camping. They have an impressive number of yurts, shepherd huts and bell tents to choose from, which are very comfortable and look like a lot of fun.
Getting There
WOWO campsite is situated in Uckfield in East Sussex, a casual 35 minute drive from north of Brighton, just over an hours drive from London, or 5-6 hours cycle ride from London.
More information can be found on the WOWO campsite including prices and availability. Make sure you book in advance to get a spot.
We really enjoyed our stay at the WOWO campsite and look forward to camping there again soon. If you are looking to go camping in and around London or in the south of England, be sure to visit the WOWO campsite. We highly recommend it. You can join their Facebook page for last minute availability and subscribe to their newsletter on the website for campsite updates and info on next years bookings.
We cannot wait to return to WOWO wonderland!
Author: Rosie Austin
(The CampTrip Team)