WOWO Campsite Puts the "Wow" Back in Camping
The campground was pleasantly busy with kids running around, swinging on ropes from the trees with the sun slowly setting over the tree tops – giving this idyllic location a perfectly warm summer glow. Underlying this picture perfect scene was the scent of campfires and barbecues from parents preparing dinner.
Our WOWO Campsite Camping Experience
This is the sight we stumbled upon when we emerged out of the forest with our two, fully packed bicycles. We arrived at the WOWO campsite (Waspbourne Manor Farm), our destination, after a 46 mile cycle trip from London, in the UK. We were lucky enough to book a pitch at this busy campsite located in the south of England from which we had heard so much about.
On arrival we meet Jean the owner of the campsite who gave us a very warm welcome. She made sure we knew about all the events/activities on and answered all of our questions.
We setup our tent in a nice enclave of the campground, just in front of the woods and next to a beautiful creek. There is plenty of green surrounding the campsite and good space for pitching your tent – pretty much everywhere. You don't feel crammed in as you do with other campsites.
Activities, Meals & More
Lucky for us, that day they provided complimentary soup and homemade bread, baked specially in their "earth oven". All their food is made from fresh and local ingredients. For the little kids on the campsite the staff had arranged for a singer to perform some songs. We sat there sipping our delicious soup, soaking up the atmosphere with other happy campers watching kids singing and dancing along to all their favorite sing-alongs.  Later that night, they also had more songs for grown-ups to enjoy. They also offer a continental breakfast every morning, again, made from the very best and freshest ingredients all for £5.
You can find out more about the range of activities this campground offers on their website.
A Place to Pitch
All pitches at WOWO provide campfire pits – which was one of the main highlights of our stay. Very rarely do you find campsites that provide or even allow personal campfires – we knew we were in for a real treat! They have a few forests that are open for exploring and adventures. They even have one forested area, the Tipi Trail, where you can pitch your tent in!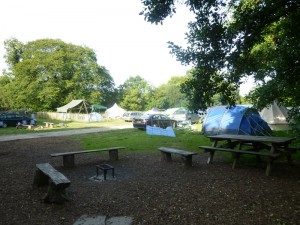 The Tipi Trail is described as offering "privacy and seclusion, tree cover and the sound of running water" and it's true. This dedicated woodlands offers an unforgettable experience for everyone.
The aim of the campground is to provide a natural camping experience with pits for campfires, surrounding trees, trails and forests for you to explore. It is an ideal campground for families – a child's haven with so much to do, things to explore and play with.
Campfires
Once unpacked, pitched and rested we got down to setting up our long awaited campfire for the evening. We went to the campground shop and bought our supplies that consisted of a huge bin of really good burning firewood and some marshmallows for toasting (essential when camping). We also made some S'mores with our toasted marshmallows, which are one of my top three favourite things in the whole world.
Overall Impression
Overall the facilities were sufficient and we had everything we needed. The campsite provided an excellent dish washing area, hot showers with good pressure and a huge converted barn made into a lovely lounge and games room. There was also a little shop with local produce, home made bread, organic and healthy specialty foods and other necessities, including firewood and marshmallows. All the staff we met were extremely friendly and happy to help with anything we needed.
Glamping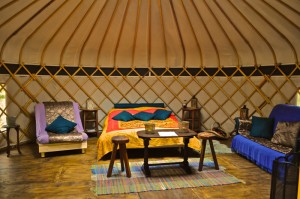 If you're not so keen on tent camping, check out their range of glamping options, which is basically glamorous camping . They have an impressive number of yurts to choose from, which are very comfortable and a lot of fun.
Getting There
WOWO campsite is situated in Uckfield in East Sussex, a casual 35 minute drive from north of Brighton, just over an hours drive from London, or 5-6 hours cycle ride from London. We chose the latter. Read more detailed directions here.
More information can be found on the WOWO campsite including prices and availability. Make sure you book in advance to get a spot.
We really enjoyed our stay at the WOWO campsite and look forward to camping there again soon. If you are looking to go camping in and around London or in the south of England, be sure to visit the WOWO campsite. We highly recommend it. You can join their Facebook page for last minute availability and subscribe to their newsletter on the website for campsite updates and info on next years bookings.
Author: Kaitlyn
(The CampTrip Team)