Campsites in the UK with a View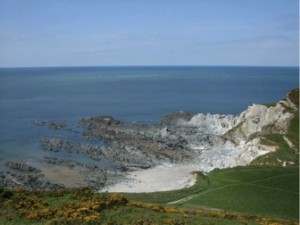 Whether you live in the UK or not, it is home to some of the most idyllic scenery in the world. The British landscape is renowned for its famous green rolling hills and cobble stone walls, not to mention the historic, charming villages and people. If sightseeing is what you want from a holiday, then camping is the ideal way to go about it. Throughout the UK, there are a huge number of places to pitch your tent. You can gaze at the glorious scenery that surrounds you, whether you're staying at campsites in Devon, Norfolk or the Scottish Borders. So, if the UK happens to be in your backyard or across the ocean it is definitely not a place to be left un-explored. For those who want to enjoy the UK's natural beauty, below are some of the three the best scenic locations and campsites in the UK with a view that are sure to not disappoint.

North Morte Farm Caravan and Camping Farm, Devon
Devon is the most southern west point in UK, and North Morte Farm is ideally located within drivable distance of both Exmoor and Dartmoor National Parks. It is a lovely family-run facility boasts a spectacular view of both Rockham beach and Woolacombe beach. Among the many activities on offer nearby include surfing on both beaches, walking along the nearest coastal path and cycling, which can be done on the path. The village of Mortehoe is just five minutes' walk away and has all the facilities you could possibly need. Visiting this exciting place is a must for families.
Great Langdale Camspite, Ambleside, Cumbria
North of Liverpool and at the bottom of the Scottish boarder you have Cumbria, home to the stunning Lake District. The Lake District is a popular holiday destination full of fun activities to do and plenty to see. At the heart of the Lake District, there is a wonderful campsite called the Great Langdale Campsite. This camping site offers views of the imposing Scafell Pike, as well as other peaks such as White Ghyll and Raven Crag, not to mention the northernmost end of Lake Windermere. For walkers, you can scale Scafell Pike et al at your leisure, while the nearby town of Ambleside has all the amenities you could wish for, including shops, pubs and restaurants. Ramblers will love camping here.
Cardigan Camping and Caravan Site, Aelybryn, Wales
Lying on the glorious Welsh coast, this site is perfect for people who love a good sea view, and when you arrive, you can't help but stare wondrously into the choppy Irish Sea. Near the village of Penparc, this Farm site has plenty of on-site facilities, and if you plan on taking your kids, you can introduce them to the sheep, hens and horses that live on the farm. The views of Cardigan Bay alone are reason enough to stay here.
I hope that this insight to campsites in the UK with a view was helpful in giving you some direction on where some of the most sought after holidays are in the UK. Before going, consider a few things such as when you are looking to go camping. Camping anytime before spring or after autumn will likely leave you with a wet UK camping experience. However, keep in mind that if camping in the summer will be more popular and likely more costly than other seasons. Then again, its like that anywhere and camping will still end up being the most enjoyable and inexpensive holiday you can take. Wherever you end up roaming in the UK, you will always end up enjoying yourself, view or no view.
Edited By: CampTrip.com
*All images are courtesy of pitchup