Camping Doesn't Have to Include an Uncomfortable Sleep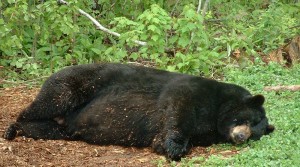 Have you ever heard the saying "you can't have your cake and eat it too"?  Well, I like to think that I can.  Most people accept the fact that camping lacks a lot of the luxuries that we are used to at home. After all, that very fact is what makes camping so special. However, I have figured out a way to balance both, at least in regards to sleeping. Camping doesn't have to include an uncomfortable sleep. Roughing it and toughing it is great while camping and can add a lot of authenticity to the overall experience but, if you ask me, if you don't have a proper nights sleep how are you going to recharge and be fresh for a new day filled with adventure?
When Out in the Sticks, Don't Sleep on Them
I love the best of both worlds and having a great night's sleep is imperative for me to be a "happy camper".  When my husband and I camped recently at Alice Lake B.C. Canada (just north of Squamish), I was looking forward to the whole experience, including having a terrific night's sleep.
Having had crummy and interrupted sleeps previously when we camped in our tent, I came prepared. What a difference it made when I pumped up the air mattress bed – for two. The Coleman Full Size Quickbed
was perfect for us; it is very comfortable, durable, folds up easily and it comes with an air pump so it's easy to blow up. I can also recommend the Coleman Rechargeable QuickPump. This is a very reliable and quick way to get your mattress pumped up and ready to go.
A Good Night's Sleep Makes All the Difference
By having a good uninterrupted sleep on our air mattress I awoke each day feeling fresh and energized rather than sore and tired. Because of my good night's sleep I was eager to get involved in all the great activities Alice Lake Park had to offer. I enjoyed being outdoors all day, swimming, hiking cooking our meals and having fun.
The weather was hot and sunny and the lake's temperature was warm and lovely for swimming. September was the perfect time for us to have a vacation – it wasn't busy as all the school children were back in classes. So, if you are camping without kids and looking for a more off-season approach while the weather is still warm. I highly recommend September as you will also get to enjoy the leaves changing their colour, which is beautiful.
Alice Lake Park in B.C. an Ideal Camping Destination
We love Alice Lake and its close proximity to Vancouver; the campgrounds are well-maintained and it's a breathtaking location. Alice Lake is surrounded by mountains, forests and grassy areas. There are four freshwater lakes that are excellent for swimming and fishing. There are also numerous trails which are great for walking or hiking.  A perfect getaway – close to home – for Vancouver campers.  Just remember, camping doesn't have to include an uncomfortable sleep. Pack an air mattress so you can make the most of your camping experience!
Author: Lyn Stewart
Edited By: CampTrip.com