Camping in Wells Gray Provincial Park: A Little Piece of Heaven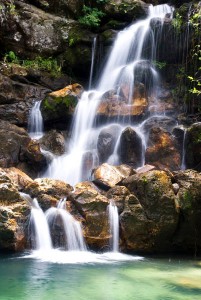 Who would have thought by Googling "Where is it sunny in Vancouver" we'd find the best Park closer to Vancouver, BC then Banff, AB. It was raining in Vancouver as usual…and we wanted to getaway and go camping. We discovered that Wells Gray Provincial Park wasn't as grey as the name indicated. We drove 5 hrs up into Wells Grey Provincial Park to the Clear Water Lake Campsite. On the way we saw a wolf and a coyote. Only to turn another corner and see a black bear right near to our campsite.
Clear Water Lake Campsite
The campsite was excellent it had everything we needed not to mention very beautiful and peaceful. Not only do they drive around making sure you have wood for your fire, they make you coffee in the morning! Don't get me wrong, it is camping in tents and RV's but near the canoe shed they offer free coffee.
Wells Gray Provincial Park
Camping in Wells Gray Provincial Park was the most amazing camping trip. There were so may things to do and see. We went hiking for hours and saw elk and evidence of bears, but no evidence of humans (which is always a good thing). While hiking in the provincial park we always felt very safe and without any real fear. We camped on the sandy beaches by the river with stunning snow-capped views. There were also 40 waterfalls, some running down into old volcanic craters.
I was expecting to see bears at this campsite like when we camped at Yosemite; we were woken to a bear tapping nicely on our tent and then having the rangers scaring it and others away. Luckily, the rangers had them on radar and got there in time. At the Clear Water Lake Campsite in Wells Gray Provincial Park  I saw no bears in the campsite. I only saw bears at dusk and dawn – they were sitting eating on the roads as we drove to the waterfalls.
The provincial park is 50min drive in length, so there is plenty of space to camp, explore and have a great time!  I would absolutely recommend camping in Wells Gray Provincial Park. This camping attraction has everything going for it, plus more!
Author: Fiona Johnson
Edited By: CampTrip.com