Camping Taman Negara Endau-Rompin, Malaysia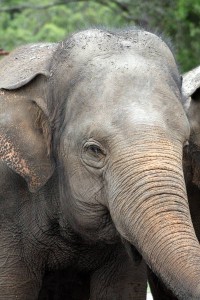 While we were in Malaysia we hesitantly decided that we were going to try camping Taman Negara Endau-Rompin, we were very worried that our lack of camping experience/expertise would put us at a disadvantage during this trip. Elliot had greater concerns about lions, tigers and bears – illusions of a Wizard of Oz adventure. We come from a country (New Zealand) where the only poisonous creature they have is a spider, and an endangered one at that. After much thought, however, we decided to go ahead with our plan anyway. We were up for whatever adventure the rainforest threw our way.
The Night Before In Kluang, Malaysia
We preferred not to sleep on the bus and arrive at our destination all grumpy and groggy in the wee hours of the morning, so we decided to stay a night in Kluang; this way we could be ready and fresh for our trip the next day. There are a few choices of accommodation in Kluang, but we chose to stay at Ailang Hotel which was in town, at a reasonable price of RM60 per room/per night.
Endau Rompin National Park, Malaysia:
Trains
Well rested and raring to go, we made our first  pit-stop (for breakfast) at the Kluang Railway Canteen at Kluang Rail Coffee. Even though it was a Saturday, we were pleasantly surprised to see that we could easily get a place to sit. This is the local hot spot and widely known as one of the best places to eat in Kluang. As it was going to be our "last meal" in the civilized world, we decided to try everything we could get our hands on.
4WDs
After our hearty breakfast, we were picked up by a 4WD and we started our journey to Endau Rompin National Park. Throughout the 2-hour ride we went through the main trunk road; it is lined with palm oil plantations – it's good to see that the palm oil companies are doing their bit to promote biodiversity.
Be warned: there is no proper road into Endau Rompin National Park. Hence, the ride will, eventually, end up feeling like a roller-coaster ride –so hang on tight! Whilst we felt like we were getting a full body, deep tissue massage as we were being thrown around the 4WD, we were amazed to see one of our hosts having a sleep in the back seat. We don't know if there is enough opium in Afghanistan to put you to sleep on that ride. It was still good fun though!
Boats
Finally, we arrived in Kampung Peta, Mersing; this is one of the two entry points into Taman Negara Endau Rompin – the other being Kampung Selai, Segamat. We were greeted by our guide and were served a simple, but tasty lunch before heading into the jungle.
After lunch we made our way to the jetty to take a boat into the heart of the forest. The 30-min boat ride took us through the magical, picturesque landscape. With the smooth ride and the gentle wind fanning us, it was truly a relaxing and refreshing experience. It was a great way to start the trip and unwind after the afore-mentioned 4WD adventure!
Kuala Marong Campsite, Malaysia:
Wildlife
Once we arrived at our destination, we trekked to our first campsite which was at the Kuala Marong Campsite. Along the way, there were many fresh elephant tracks and a mountain of elephant dung. Not long into the trek, we met with an elephant grazing on bamboo. Shuk (another member of the group) was the first one to sight it and, for fear of getting trampled, started running! Hence, others only got to see the shadows of the elephant and Shuk as she made her dramatic dash!
Great Campsite Location and Amenities
When we arrived at the Kuala Marong Campsite, we were pleasantly surprised by the existence of available amenities: running water (from the mountain), bathroom and toilet (very basic), dining area, camp area, as well as a cool rest area/gazebo! And here Shuk had been thinking that she would have to pee in the bush!
The campsite is located at the converging point of two rivers. It was simply amazing. The sound of the river rushing below, the clear and clean water, the lush greenery – we couldn't have asked for a better spot to spend the next two nights.
Next to Beautiful Rivers and Lakes
After setting up our tent, we decided to head to the Blue Lake / Tasik Air Biru to take a dip and cool off. The water was clear and blue – good enough for us to take our bath there! The experience was pretty amazing. We were very happy with what would be our bath for the next few days!
The forest is a bit cooler due to the canopy cover, but it was still hot (especially when trekking). Therefore, it was nice to cross rivers and get a cool dip into the waters. On one occasion, Elliot had the pleasure of an unexpected full body dip. The rivers are pretty calm and shallow. However, do watch out for those slippery rocks! And make sure all of your electronics are in a sealed, waterproof bag.
We were grateful that we didn't carry too much stuff – although our guide carried most of the heavy items anyway (like the portable stove, food for the next 3 days, etc.).
Nighttime
As dusk fell, we got ready for dinner and our guide prepared us a simple meal with rice, vegetables and sardines. As our meals were taken care of by the guide, everything was simple and prepared with ease. Elliot's number one food tip is to take along a can of terrine de boeuf (corned beef); he believes that this is one of the best things to eat when you're trekking. All that protein and fat. Yum. Plus, your guide will normally serve you only canned fish and chicken, so you may need a "fix".
There was not much nighttime activity, except for chatting with other fellow campers, preparing for our hike the next day and getting as much rest as possible. If you are the type that gets bored easily, bring a book or bring a deck of cards. We decided to turn in at about 11pm as the electricity was turned off at that time. We loved camping Taman Negara Endau-Rompin, Malaysia! It was an unforgettable experience and I recommend anyone looking for adventure, beauty and a good time to go camping at Taman Negara Endau-Rompin in Malaysia!
Author: Maslinda Abdul Jamil
Edited By: CampTrip.com