Camping South Africa's Kruger National Park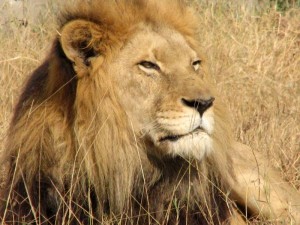 South Africa's Kruger National Park is a world-famous nature reserve. It is renowned for sightings of the "Big Five": the lion, leopard, rhino, elephant and buffalo. What most people don't know, is that it is also possible to camp inside the game park. It is perfectly safe, very affordable and a great way to get a little closer to nature.
Camping South Africa's Kruger National Park:
Campsite Amenities
There are ten rest camps within the park that allow for tented or caravan camping. But don't worry, the camps are enclosed by fences. Stands are all equipped with their own power points. They are conveniently located close to communal ablution blocks and washing facilities; these facilities include 24-hour boiling water, hot plates and either shared or movable braai (barbeque) grids for cooking up a storm under the African sun. Some camps, such as the Tsendze Rustic Campsite, feature open-air showers and do not supply electricity (although warm water is provided by gas geysers and solar battery systems). This does offer a more authentic bush experience for visitors. Most of these camps also provide disabled-friendly amenities. Many of them have their own permanent tented accommodation.
Camping in Summer or Winter
The Kruger National Park is open to the public all year round. There are pros and cons to both winter and summer visits. The summer months can get extremely hot and evening thunderstorms could be unpleasant to experience inside a tent. However, the vegetation will be lush and green and the odds are good that you will see female animals accompanied by their young. Winter months are more moderate, but the veld is dry and dusty. This factor does make sighting animals easier.
Daily Kruger National Park Camping Schedule
A typical day of camping in the Kruger National Park starts with an early morning rise (the birds in the trees overhead become active at around 5 AM); this is followed by a game drive in either your own car or in a 4X4 open-top vehicle organized by the rest camp. There are various unfenced rest stops dotted around the reserve. Here, you can stop and have breakfast before setting out again on your search for animals. What you will see depends largely on what area of the reservation you find yourself in; you are almost always guaranteed to spot, at the very least, impala, zebras or giraffe.
By mid-afternoon the sun starts to get very hot. Around this time, the wildlife lie low in the shade, making them very hard to spot. Therefore, this is a good time to return to camp to either take a nap of your own or to cool down in the camp's communal pool.
In the late afternoon you can go out exploring again, or relax at the camp; a good suggestion is to sit next to the dam and wait for the animals to come to you.
There is a strict 6 PM curfew which requires all visitors to be inside the rest camp. The gates close at this time and no one is allowed out until the following morning. You can fall asleep at night listening to the sounds of the wildlife outside the fence. Perhaps you'll hear the eerie cackle of a hyena or, if you are lucky, the grunting sounds of a lion calling its mate.
What amazing experiences will the next day have in store?
Visit www.krugerpark.co.za for more information.
Author: Sunee Jones
Edited by: CampTrip.com