Have a Blast on a Euro Road Trip and Save Money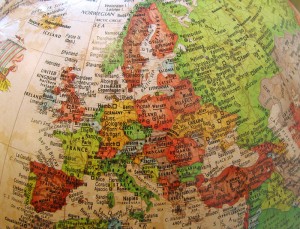 In my humble opinion, a campervan is the only way to travel. There's nothing like heading out on the open road and not being tied to one place, with all the promise and possibility of an adventure that you'll never forget. But what do I love most about this type of holiday? It can be really cheap if you know how to organise it. Below I will share my advice on how to have a blast on a Euro road trip and save money.
Saving for our Euro Road Trip
Just last year, we decided to take the family to a few spots across Europe and try and keep costs down wherever possible. To start off, I headed over to MoneySupermarket, to take a look at what kind of savings I could make there and managed to save some money on the van insurance for our camper. We shifted a few old bits on eBay too and managed to build up a bit of a holiday fund that would be enough for us to start making plans – and the first job was sorting out where we were going.
Belgium's Breathtaking Budget
The first stop would be Antwerp in Belgium, a beautiful European city with some incredible sightseeing opportunities, including street art and statues, plus a number of great museums – including the MoMu fashion museum. The wife is a bit of a fashion expert and trained as a designer for many years, so this was an absolute no-brainer – and at just eight euro to get in, with a free brochure on arrival, it was a total bargain. While we were in Antwerp, we decided to check out some of the wonderful views along the port along the River Scheldt, which plays host to a truly awe-inspiring skyline that looks incredible at night time. We used this to challenge the kids to a photo competition (which of course they both won) with the grand prize of ice cream at stake.
Germany's Great Group Gatherings
We spent a couple of days in the city before heading out to our next destination, Frankfurt Germany. Here, we took the little ones to the fabulous children's museum – which again was very cheap and educational for all the family – and as this was one of the parts of the trip we booked first we saved a lot of money on the hotel. In fact, this is one of the things I'd suggest doing first. One of the great things about this city though is the number and range of interesting museums it has, which is not only great for those with families but is a welcome bonus if you are on a budget. I even managed to sneak away for an hour to check out the German Film Museum while my other half looked after the kids at a nearby café.
France's Free Finesse
Before heading back to the UK, we spent a couple of days camping on the French coast in a place called Le Havre. There are absolutely loads of things to do here, but by this point we were all starting to feel the road a little so we took some time to sit on the beach and reflect on what had been an incredible week. This wasn't difficult, as the area has two kilometres of sand and pebble beach just outside the city centre as well as volley-ball courts and a great children's playground.
And that was it. We'd done our annual trip for about half the price of what we might have spent on a package holiday – and plan to do the same again this year! All in all, it was a real success.
Author: Michael Goodwin
Edited By: CampTrip.com