Camping Equipment: Should you Skimp or Splurge?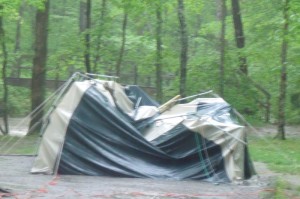 Before camping there is always one question that comes to mind: should I skimp or splurge? If you go on the cheap you will end up saving money but will you lose your sanity while camping? If you splurge or pay for quality camping equipment you will leave with less cash in your pocket but you may have invested in gear that will preform as promised and be worth every penny you've spent. So what will you do? Here are some pros and cons about skimping and splurging on camping equipment.
Make sure you also read part one of this topic Camping Essentials: Should you Skimp or Splurge? for some insight on finding out if skimping or splurging on camping essentials is right for you.
Should you Skimp or Splurge?
Your comfort — not to mention your safety — should be a major consideration when selecting camping gear. Here are some more tips on how you can save on camping equipment:
Expensive does not necessarily mean the best. Pick equipment that is of good quality and those that you know will last several uses. If you shell out a little more than expected but are able to use the equipment more than twice, you know it is a good deal.
Ask for recommendations from experienced campers. It is easy enough to visit a camping site or forum and meet camping enthusiasts who would be more than willing to give you tips on what gear is best.
Read reviews on shopping or equipment sites. Insights from people who have actually used the products you are considering are very valuable.
If you can borrow things — particularly tents or sleeping bags — go ahead. This is advisable for those who are new to camping and do not want to spend much. Just remember to make sure what you are borrowing is still functional, and return it in the same condition as you got it.
So should you skimp or splurge for your camping equipment? I would safely say that is it advisable to do neither. Rather, spend wisely. Examine your needs and weigh your options before you make a decision. It will not do you well to realize that what you got was not the right equipment. Your comfort and safety is what is important, and you should shell out money — or hold back — on your equipment, accordingly.
Below are some of the key camping equipment essentials you will need. It is up to you to decide how much you want to spend on them and how important it is that they all preform as they should.
Tent
A tent will act as a cover for you when you rest at night. It keeps away the elements and other creepy crawlies that may be roaming about at night. It protects your gear should the skies decide to open up while you sleep. Some tents work great with cold climates, while some are fit for warmer weather. There are tents that are easy to set up, while some may require a bit more of know-how. Tents also come in various sizes and thus vary in the number of people they can comfortably hold.
Sleeping Bag
Much like a tent, a sleeping bag offers you protection while you rest. It is your bed for the duration of your camping trip. Sleeping bags help regulate your body temperature while you sleep, which is important regardless of the weather. You can pick from synthetic materials (lightweight and easily washable) or natural materials like down (can be heavier but is softer and is a better insulator of heat).
Clothes
Like the tent and sleeping bag, your choice of clothes will be dependent on where you are going camping and when. It does not seem right to bring shorts and tank tops when you are going camping in the mountains, right? Properly picking the appropriate clothing will not only make your trip easier, you are eliminating the possibility of buying clothes that you will not use at all.
Backpacks
Of course, will all these gear, we need something to carry it all in. Backpacks are the camper's choice, as it allows you to pack as much as you need while keeping your hands free for other things. However, it is important to have a backpack that can support everything that you will be carrying. At the same time, it should not cause strain on your body. It should also allow the air between your back and the bag to circulate to prevent you from having a sweaty back.
Read more in the article Camping Essentials: Should you Skimp or Splurge?
This is a guest post by Ally Tobias she is part of the team that manages several personal finance sites in Sydney, Australia, which feature tips on how to save money.
Before joining the team, she was a Media Planner in McCann Worldgroup Philippines, Inc., with award-winning executions, including the Levi's 501 "Live Unbuttoned" global campaign.
Author: Ally Tobias
Edited by: CampTrip.com