Winter Camping Checklist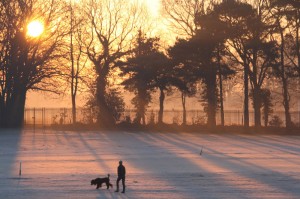 There are advantages to camping in winter. No bugs, snakes, crowds. Everything is just a bit more peaceful and quiet with a white blanket atop a forest or mountain. But in its intense, raw majesty, a winter camping environment needs a lot more planning than just any other camping trip. A combination of thorough preparation, the right supplies, and the right skills can help a winter camper/hiker a winter hiker have a fantastic – maybe even cozy – experience, even in deep-freeze conditions.
Camping Checklist for Winter Camping

Shelter and Sleep
3 or 4 Season Tent (Domes work well)
Tarp to cover tent (for snow protection) or to make a tarp shelter
Snow tent pegs, stakes, guylines
Ropes to erect and tie-down tarps and tents
Groundsheet tarp
Sleeping bag (down, 3-Season, etc.)
Compression sack for sleeping bag
Fleece blanket
Pillow case (stuff with extra clothes to make a pillow)
Spare tent poles
Flannel sleeping bag liner
Over-Bag or Summer Weight Sleeping Bag
Camping mattress
Thermal-set mattress
Insulation Pad (Reflective) or Layers of Cardboard
Footprint (if needed for tent)
Sleeping pads
Kitchen Supplies
Energy food (bars, gels, chews, trail mix)
Energy beverages or drink mixes
Extra day's supply of food
Stove
Fuel
Food-storage sacks or canister
Eating supplies (plastic cup, plastic plate, Lexan utensils)
Cook set (pot with lid, saucepan with lid, frying pan)
Thermoses
Water bottles or hydration system (insulated)
Water filter or other treatment system
Backup water treatment (e.g., halogens)
Measuring cups
Pot gripper
Fiberboard with stove platform
Funnel
Dip Cup
Dish and pot scrubber
Garbage bags
For more Kitchen Supply items go to The Ultimate Camping Checklist or Camping Kitchen Supplies Checklist.
Toiletries
Toothbrush/toothpaste
Small hand towel
Toilet paper (in zip-lock bag)
Sanitation trowel
Hand sanitizer + quick-dry towel
Toothbrush and/or toiletry kit
Hand Sanitizer
Flushable Wet Wipes (in zip-lock bag)
Paper Lunch Bags (for burning toilet waste)
For more Toiletry items go to The Ultimate Camping Checklist.
Navigation
Car Check:
Battery condition
Oil and other fluids
Brakes
Snow tires
Chains or cable chains
Jumper cables
Antifreeze
Scraper and broom
Trip Itinerary under car seat
Lights
GPS
Full tank of gas
Shovel and sand
While Hiking:
Compass
Guidebook; interpretive field guides
Two-way radios
Cell or satellite phone
Personal locator beacon (PLB)
Map case and map
Flare kit
Trip itinerary (left with a friend)
Snow
Snow shovels (foldable)
Climbing gear
Snowshoes or crampons
Ice axe
Snow saw
Toboggan (for transporting equipment) with tarp and tie-downs
Avalanche transceiver
Avalanche probe
Cross country skies (or other)
Trekking poles (for snowshoes or skis)
Tools and Miscellany
Knife
Multi-tool
Flashlight / headlamp
Extra batteries and bulbs for flashlight / headlamp
Pliers or vise grips
Screwdrivers (combo set)
Duct tape, ripstop (etc.)
Wire
Glue/Epoxy
Whistle
Altimeter/Barometer
Sunscreen
Lip balm
Camera
Candle lantern (spare candles)
Matches
Lighter
Whistle
File
Aluminum ladder
Clothes line and pegs
Alarm clock
Thermometer
Wisk broom
Lawn chair with insulator pad
Axe
Flint kit
Butane Lighter (Wind-proof/Water-proof)
Self-heating "Hot Pad" foot/hand warmer
Slope meter
50-foot nylon cord
Notebook and pen or pencil
Permits
Binoculars
Small amount of cash or credit card Zip-lock bag for wallet
Sewing awl and heavy thread
Regular needles and thread
Hose clamps
Parachute cord
1/4″ waterproof rope – 100 ft.
Extra snowshoe binding
Neoprene straps
Pack repair parts
Stove repair parts
Pole patch kits
Spare bails for XC bindings (if skiing)
First Aid (for cold conditions)
Throat lozenges
Antacid tablets
Heavy space blanket
Heat packs
Hypothermia thermometer
For a full First Aid Checklist go to The Ultimate Camping Checklist.
Storage and Bags
Backpack (Internal frame recommended as it's warmer)
Forty below bag
Utility straps (for holding snowshoes onto backpack)
Gore-Tex bivy sack
Waterproof containers
Daypack or summit pack
Stuff sack or compression sack
Large Rubbermaid containers
And there you have it, a very complete winter camping checklist. No, you definitely do not have to bring all these items the winter camping checklist is merely a guide. If you can think of any other winter camping supplies we have missed please do let us know in the comment box below. If you would like to get some ideas on what you need to pack (clothing wise) read the article Winter Camping Clothing Checklist.
Author: Kirsten
(The CampTrip Team)