Camping in Romania: Don't Forget the Camping Essentials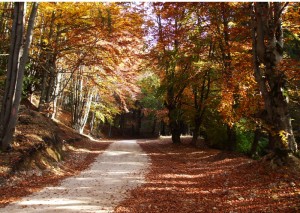 I live in Romania, to be more specific Transylvania. It's a beautiful location full of mountains, plains and hills. I don't want to bore you with details about the beautiful green grass in the summer or the pure white snow in the winter. It's a great place, and I live right in the middle of it. A few days ago I and some friends decided to pick up our bikes and go camping in a forest nearby. I took everything we needed for two nights of tent-camping: meat, matches, a grill, some clothes and my bike. I was ready to go.
"Something was Missing…"
We had decided to meet near the edge of the woods. It took me a couple of hours to get there but the cold, clean air around me kept me full of energy while my legs got me to the meeting place. I was the first one there, but just minutes later all of us started to arrive. I had a horrible feeling that something was missing, and when I asked my friends they told me they had the same feeling. As soon as Dani, one of the guys, arrived we all noticed it: none of us had brought a tent except for Dani.
Darkness Fell, As Did Our Spirits
It seemed that in a matter of seconds the sky got dark and the cold more intense. We all took Dani's tent and started unfolding it and staking it in the ground. Thankfully Vlad was on his game and started making a fire. Soon it was all ready: the only tent we had was set and the meat was cooking. We ate happy and proudly, knowing we had at least thought of food, but the cold wind didn't seem to care about our good mood. It started to creep up under our clothes and soon it reached our skin. We all started to tremble in the cold. We had to think of a way to get everybody in a small two-person tent. There was only one problem. There were five of us, so we did what any group of male friends would do in such a situation: we started fighting over who got to sleep in the tent. God bless the small pieces of ice that started falling from the sky. It stopped all our mouths instantly.
A Stroke of Genius
We all somehow got in the tent while sitting with our feet under our bodies, but we couldn't do that all night, so we thought out a plan. The three shortest guys would sleep horizontally in the upper part of the tent, since it was just a big square and the other two would sleep vertically at they're feet. It was one of our best ideas we ever had, and even now I'm proud of it. The next day we were a little bit sore, but nothing compared to what we would have been if we had all slept horizontally next to each other. The only thing I was sorry about was the two guys that slept at my feet. I bet they didn't just smell the grass in the morning!
Author: Paul Pintea
Edited By: CampTrip.com