Camping and Outdoor Guide Books for Kids
Do you have kids that like to keep busy? Or, do you want to keep your kids busy? I have selected some of the best camping and outdoor guide books for kids at the moment! These books are great because they are packed full of fun outdoor information and activities for your child to try.
Whether your kids are outdoors camping, in the backyard playing or stuck indoors on a rainy day these books offer endless hours and original ideas to have fun and keep busy. Plus these books are great because your child may actually learn something hands on. These books packed with useful and "how to" information, making these some of the most hands on and fun books out on the market! It's a win win situation, parents can watch their kids learn and have fun while keep busy and kids get to try hand on activities and learn new skills they will be proud to show off.
– Lynn Brunelle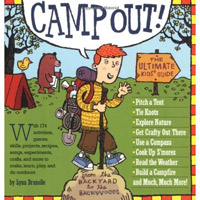 For Ages 7 and up – Whether you're planning an over night in the backyard or a weekend in the wilderness, this book is packed with stuff to know. The basics, from gearing up to choosing a site to building a tarp tent. Tasty outdoor recipes: Solar Oven Pizza, Chow Down Chili and s' more's of course—with 8 variations. This is the perfect camping and outdoor guide books for kids. It shares valuable and interesting information in a fun way!
– Laurie Carlson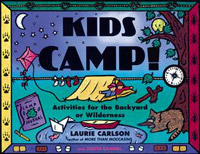 For Ages 4 and up – Kids Camp is a great book for rainy days, camping in the backyard or camping in the wilderness. It provides many activities that children can do alone or with their parents. It also acts as a great outdoors guide for kids and shares valuable survival information.
"Kids Camp offers innovative ideas to help kids of all ages keep busy"
The chapters feature directions for making inexpensive equipment and projects while exploring nature; crafts; outdoor games; and recipes for snacks and meals. Whether indoors or outdoors this book has 100 plus ways to keep kids busy, the illustrations add to the book a great visual aspect helping you follow the instructions easily.
– Chris McNab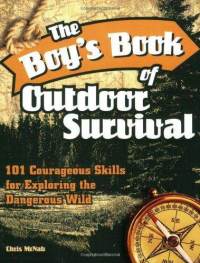 For Ages 4 and up – Packed with 101 exciting, daring and even life-saving skills, his book will introduce young thrill seekers to the amazing world of wilderness adventure and survival. The Boy's Book of Outdoor Survival covers skills like how to start a campfire, build a shelter, forage for food, find water, track animals, set traps, spot poisonous snakes and navigate by the stars. With its detailed instructions and colorful illustrations, it brings to life the great American wilderness while showing boys how to bravely overcome its challenges.
– Denise Long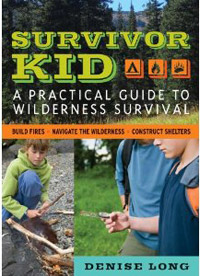 For Ages 9 and up – This handbook guide equips children with practical tools for overcoming adverse wilderness experiences, even if they are endured alone. Compiled by a search-and-rescue professional, straightforward advice is offered on building shelters and fires, signaling for help, finding water and food, dealing with dangerous animals, learning how to navigate, and avoiding injuries.
"This little book is packed with great information for children and adults too"
Practice projects are included to hone survival skills—such as starting a fire with a reflective surface, casting animal tracks, or using a treasure hunt to test navigational aptitude. Making a strong argument for danger prevention, each lesson is coupled with simple instructions and diagrams that will reassure and empower young adventurers.
– Conn Iggulden & Hal Iggulden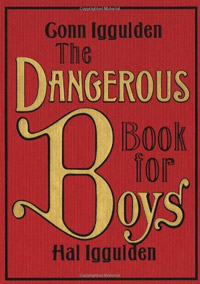 For Ages 8 and up – Is a guide book for dads as well as their sons, as a reminder of lore and technique that have not yet been completely lost to the digital age. Recall the adventures of Scott of the Antarctic and the Battle of the Somme, relearn how to palm a coin, tan a skin, and, most charmingly, wrap a package in brown paper and string. The book's ambitions are both modest and winningly optimistic: you get the sense that by learning how to place a splint or write in invisible ink, a boy might be prepared for anything.
Now you are fully equipped to get out there and make your own adventures! Have fun!
Know of Any Other Camping and Outdoor Books for Kids?
Please share any Camping and Outdoor Books for Kids recommendations in the comment box below. Thanks!
Author: Kaitlyn
(The CampTrip Team)