Camping Stories for Kids
Whats better than reading your favorite story characters go camping while you're camping too? Nothing I can think of…. If you are camping with young kids bring along some of these great camping stories for kids to get them enthused about trying the new things that come with camping. Just like their favorite book characters did!
These books will bring a bit of familiarity to the whole camping experience and your kids will be able to relate better to the things around them. It's fun when you know that "Curious George" goes camping too! But you don't just have to read these camping stories while camping, you can read them any day to either bring back your child's camping memories or just go on a camping adventure with your favorite character where ever you are.
– Chris Van Dusen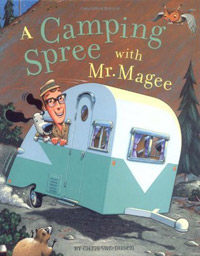 For Ages 4 and up. – Mr. Magee and his trusty dog, Dee, are enjoying a peaceful camping trip when all of a sudden they find themselves plunging down a mountain and teetering on the edge of a huge waterfall! How will they find their way out of this slippery situation?
"I don't know who likes this book best, my 2 1/2 year old, my 5 year old, or me"
Chris Van Dusen, the creator of Down to the Sea with Mr. Magee, has filled this new adventure with charming illustrations and a playful, rhyming text. A fun read-aloud for children (and adults!) on campouts or snuggling at home!
-Margret & H.A. Rey's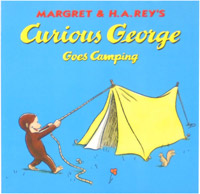 For Ages 4 and up – George and the man with the yellow hat are going camping! George tries to be helpful, but after he upsets a neighboring camper, he is chased into the woods and gets lost. Before long, an encounter with a cute forest creature throws George into a chain of outrageous events that allows him to find a way to be helpful after all. This book is a fun adventure and is packed full of great colour illustrations. Curious George is a classic character that you can't help but love! I know I love this mischievous monkey!
– Mercer Mayer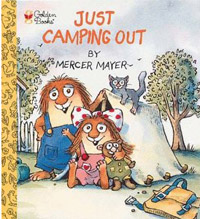 For Ages 1 and up – A brother and sister spend the night in a tent in the backyard–well, some of the night. One of the many books in the Critter series, great for younger children.
"I just love the Mercer Mayer books, the kids and grandkids love this camping out book"
This book is full of colourful pictures, is a nice easy read and one that all kids can relate to.
– Helen Foster James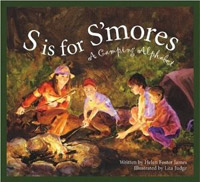 For Ages 4 and up. – From what to pack, where to go, and what to do when you get there, S is for Smores: A Camping Alphabet takes readers on an A-Z trail exploring this outdoor pastime. "This amazing book can be read in two ways: as a poetry alphabet book with gorgeous accompanying illustrations and/or by reading the information side bars that extend the experience with scientific and historical facts". "James uses each letter to highlight a different aspect of the camping experience, including animal tracks, fire safety, navigation and snow shelters. The enthusiastic approach and diverse information will excite children about camping and help them feel comfortable whether they find themselves sleeping in the backyard or the backcountry." Note: This book is more of an instruction book on camping instead of a child's camping alphabet book.
– Peggy Parish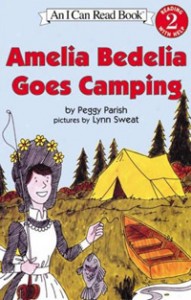 For Ages 4 and up – Amelia Bedelia has never been camping in the great outdoors before. She's trying her best to do exactly as she's told, but pitching a tent is not the same as throwing it into the bushes, and catching a fish with your bare hands isn't easy. As usual, the mixed-up housekeeper makes this camping trip one hugely entertaining adventure.
"This book keeps the children's attention and give them a laugh"
This is a great book for young children. There is no bad language just good, clean reading. It's funny and amusing and will keep your children laughing.
– Stan & Jan Berenstain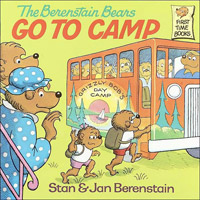 For Ages 2 and up – It is the summer holidays and Brother and Sister bear find that they can't find anything to do. Mama suggests sending them each day to a local Day Camp where there are lots of different activities for cubs. Brother and Sister get to try new things and find that the summer can be a lot of fun.
"Sharing this book with your kids can definitely help to ease some of the pre-camp jitters"
"The Berenstain Bears Go To Camp" is a worthwhile addition to your Berenstain Bears library and highly recommended for kids who may be going off to camp or spending time away from home for the first time.
So whether you're getting them ready to go camping or just getting them ready for bed, your kids are sure to love these great camping classics!
Can you recommend any other Camping Stories for Kids?
If it's an old time classic you liked or books your kids now are loving. Let us know of any other camping stories for kids in the comment box below and share the joy with other campers.
Author: Kaitlyn
(The CampTrip Team)