What NOT to do When You Are Camping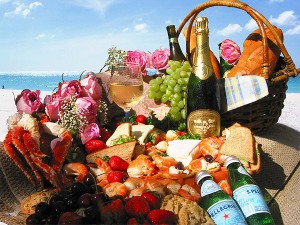 There are a lot of ways to ruin a good camping trip. And it's even easier to ruin the great outdoors for others. To ensure a happy, safe and stress free camp trip, here's what NOT to do when you are camping!
Never leave food out!  Foxes, birds, rabbits and creepy crawlies would just love to share the delicious food you bring to the campsite. It is best to keep all food in air tight storage containers or a cool box with a lockable lid so it is hard for animals to smell it or get to it. Also take care not to leave any scraps of food in or around the tent that may attract little critters.
Never touch your tent in the rain! I learned this lesson when I was camping as a little girl and I have taught my daughters the same thing. Trust me, you will spring a leak! You are inside, dry and warm and if you want to keep it that way, stay away from the tent sides and try to ensure that nothing is touching the sides of the tent either, especially the bedrooms.
Don't hike or walk alone! No matter how short the trip is you are going on, try to have someone with you. If you slip, or worse, someone can at the very least get help for you. If you do head out alone take a mobile phone along with you and let friends back at the campsite know where you are planning to go.
Never play with the campfire! I speak from experience when I say that I know it can be fun to throw paper, wrappers, and whatever else you may find into the fire, but it is extremely dangerous and can turn a happy camp trip into a disaster. If you have to add wood, add it, and if you have to turn the logs, by all means do so, but if you get the idea to see how long it takes for something random to catch fire, please think again! Fire spreads with very little or no warning, so take care at all times!
Never litter! This rule is paramount, and at NO time should you be throwing rubbish all over the campsite! Cigarette butts, sweet wrappers, bottles, cans, and anything else you wish to discard should be put in a bag and brought back out with you. If there are bins at the campsite where you are staying, use them!
Don't walk through other pitches! Campers, including yourself, can rightly expect a little privacy within their designated pitch. Don't take short cuts through somebody's camp area to get to another part of the field. It's very annoying when sitting down to eat dinner and other campers traipse around you on their way to and from the shower block. Campgrounds are usually designed so that foot traffic can get around without having to walk through pitches. Respect your neighbor's camping space and find another way to get where you're going.
Don't drink too much before bedtime! There is nothing worse than having to go to the bathroom in the middle of the night while camping. Crawling out of your warm sleeping bag, fumbling around for a torch, braving the cold… and all those dreadful night sounds. So, best thing to do – force yourself and your little ones to make a toilet trip at a more comfortable time of the night and don't go drinking too much after.
Don't ignore quiet times! While it's not necessary (and sometimes impossible with young children) to go around the campsite like it's some silent retreat, it is good to keep tabs on the volume of your conversations, laughter and music. In most campsites there are rules stipulating quiet times, normally between 10pm and 7am. As soon as you see your fellow campers retreating into their tents for the night, do the same or lower your voices just a fraction. If your fellow campers don't retreat, well, great stuff… party all night!
Don't forget that it is meant to be enjoyable! If you are a seasoned camper, you will know that it won't be like home: that is the reason you are doing it surely? Some creature comforts may not be available, the kids are going to get dirty and possibly drive you crazy in the first 10 minutes of arrival, and sleeping in close quarters with family members may be challenging! But apart from those little things, remember that you are there to enjoy the beautiful outdoors, spend time with your family and create life long memories. So laugh at the mistakes and learn from them. Don't get disheartened if your camping experience is not perfect, just keep smiling and enjoy it… Happy Camping!
Author: Rosie Austin
(The CampTrip Team)