Happy Camping
A very wise George Washing Carver once said , 'I love to think of nature as an unlimited broadcasting station, through which God speaks to us every hour, if we will only tune in.'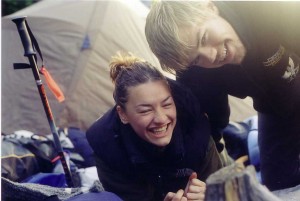 It's the time of the year when the air becomes crisp, the sky displays a deep, powder blue colour and the rays of sunlight that settle on our faces warms the skin more than it does at any other time of the year.
That's right, it's summer. Even better than that, it's the perfect time for camping.
So you've set aside time to go camping. But what's the most important thing to remember for the trip? Is it the equipment, the tent, the first-aid kit or, for some of you, perhaps remembering the kids is on top of the list? Nope! The most important element of camping is the right mindset.
Happy Camping Makes for Happy Campers:
Ditch the Digital – Mobile phones are essential for everyday life but not so much for camping. They will only serve as a distraction on your trip. Remember, you're here to enjoy the outdoors and to leave city, suburban life behind. It's only for a couple of days. You can handle it. Ban them!!!
Don't be afraid to be adventurous – Explore the area you're camping in with your group. Be open minded. Learn something new about the area and landscape.
Come Together – Use your camping experience as a team building exercise to get to know your mates and/or family better. Bring along games and find out as much as you can about the area you're staying in. Immerse yourself in your current location.
Take loads of pictures! – As much as we can try to remember those special moments, pictures remember more.
Wake up earlier and enjoy the sunrise – It's completely different when you're not watching it from a balcony in your home.
Keep a brief diary of your time camping – You can do this individually or as a group. Shared experiences amongst friends or family is an amazing way to bond. It doesn't have to be pages long, just small highlights from each person's day.
These are very insignificant details that will help you to achieve happy camping and they won't be a hassle to include in your next camping adventure. These tips will make your trip the best you've had yet.
I leave you with the thoughts of the great nature enthusiast, David Attenborough, 'It seems to me that the natural world is the greatest source of excitement; the greatest source of visual beauty; the greatest source of intellectual interest. It is the greatest source of so much in life that makes life worth living.'
Happy Camping Everyone!
Author: Govender Theerusha
Edited by: CampTrip.com