Camping is Becoming a Vacation Trend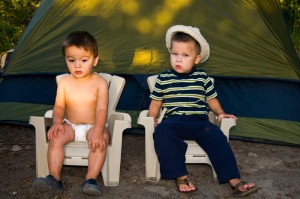 According to the British based newspaper "The Telegraph" camping is making a comeback. It would seem that camping is becoming a vacation trend. Camping is seen by most as being difficult, "uncomfortable" and only for the adventurous or the tree treehugger type.
Figures from the Office for National Statistics show that camping trips were up by an  increase of 29 per cent compared to the previous year. Camping appears to now be even more popular than vacationing at a Bed & Breakfast.
"5.43 million camping trips were made last year. For the first time, this number overtook B & B's, which attracted 4.98 million stays"
There are a number of theories as to why camping is becoming the vacation trend:
Consider Camping:
Recession -Camping is a more budget friendly escape.
More options of Camping– Glamping is now becoming the ideal glamorous tenting option. Getting you close to nature but not uncomfortably close.
Getting back to Nature– People are realizing that getting out of the city to enjoy the peace and tranquility of nature has a  healing affect on a stressful lifestyle.
Camping is for Everyone– Groups of people can arrange to go camping, making camping  a very social experience.
So what better reason to get back to your roots, spend some quality time with friends and family while keeping your money in YOUR bank account! If camping is becoming a vacation trend, maybe you should get with the times. Get trendy and go camping!
Get out there and go camping!
Author: Kaitlyn
(The CampTrip Team)
Source: The Telegraph Newspaper by Christopher Buscombe and Harry Wallop