Pitch Imperfect: The Wrong Place to Pitch Your Tent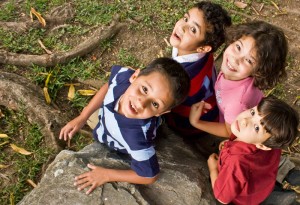 Camping! Much like purchasing real estate, the three most important things are location, location and location. I learned this the hard way. It was about five years ago now, although my therapist remembers it as if it was yesterday.
I'm a single dad with five children to entertain each summer. They had been nagging away at me for a couple of years to go camping and, having run out of excuses, I finally agreed. So that was how we ended up on the banks of beautiful Loch Tummel, nestled in the wild Southern Highlands of Scotland.
The Wrong Place to Pitch Your Tent
"Let's get as close to the edge of the Loch as we can!" I wish I could say that these words were spoken by one of the younger members of my merry band. Sadly, they were mine and mine alone, as I have been reminded, several hundred times, over the intervening years.
I pitched the tent right on the edge of the bank, which fell away almost vertically some six feet to a sandy, boulder-strewn shore. We pitched on the slightest of slopes, but the view from the spot was so utterly perfect I had convinced myself that this tiny gradient wouldn't matter.
Nighttime Turned out to be a Nightmare
Eminent physicist, Stephen Hawking, classifies gravity as one of the four universal forces. I only wish he'd been there to remind me. By 2am all six of us had rolled, slipped and slithered to the lower end of the spacious tent, squashed together like sardines in sleeping bags. My eldest daughter decided to answer the call of nature. She stepped out of the tent, right over the muddy precipice, head-first into a tangle of gnarly tree roots jutting from the bank. Just as she did so, my youngest son, small for his age, managed to roll out of the door and follow her over the edge in his sleeping bag, coming to rest an impressive distance away along the shore. I panicked, leapt from the tent and skidded barefoot on the slippery grass. Pausing only to burn myself on a piece of smouldering driftwood from the remnants of our campfire, I too sailed over the little cliff, arms and legs flailing. It was at this point that the screaming started.
At first light I awoke to a strange feeling. My face was stinging from a thousand pinprick points. I looked up and saw a dark, swirling cloud above us in the tent. It was as if some demonic form was trying to take shape. Midges( also known as mosquitoes). Hungry, hungry midges were among us, and they had feasted. I looked at my children. They had so many bites they looked like they'd been blow-torched.
It still makes me feel itchy now, just thinking about it.
It's odd, but despite this catastrophe, the first thing the kids wanted to do the next summer was head off with the tent. We did, and had the time of our lives. They chose the spot.
Campers, pick your pitch well.
Author: Paul Spink
Edited by: CampTrip.com