Be Careful What You Say to Your 10-Year Old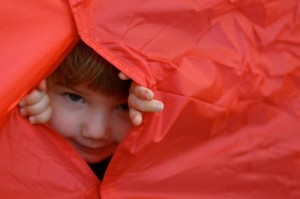 It is the spring of 2006 and we buy a new tent for the children to use for next summer. This is quite exciting and Graham, then aged 10, wants to try camping in the backyard during the school half-term, week holiday. This seems okay. He has slept in the garden before, as had his sister before him. He equips the tent with pillows and blankets and books and a CD player and so on and is very cozy.
Come the end of the week and its… "Do I have to come in? I like it out here". We point out that he has school starting on Monday and he needs to get up on time. "But I will", he says. Okay, we sigh, but ONLY if you get up on time (thinking all along "like that will happen").
Monday morning – up with the lark. Tuesday, also.  In fact, to cut a long story short, it is now January 2011… and he is still there!
They May Turn Into a Permanent Garden Fixture
Now aged 14 (15 in February) he has been camping in the backyard and slept through 4 winters with temperatures down to -12C, and summers too. He has also gone through three tents in that time, and countless airbeds – as well as appearing on local and national TV and radio. We remain confident that we will coax him back in, eventually, as it would be good to have the end of the garden back – his bed is still there!
The Benefits of Having a Child Garden Gnome
On the other hand, he does indeed get up on time – every day – goes to bed at a reasonable hour, too; we do not have to complain about his room being untidy…
And as for his health… well, from our experience if you have a slightly sickly child prone to getting every cold and flu germ that circulates within 100 miles then the lesson is simple. Stick them in a tent in the garden for six months (or more) – it will do them no end of good. Graham did not miss a single day of school through illness in his first year – he even won an award for it!
Advice For Camping in the Backyard Long Term:
You do not need a super high quality tent. Really. Chances are that your garden will be fairly well sheltered, so all we have used (for the last two tents) has been a Gelert Tornado  – which is a simple 3-person, two-wall tent. It's fine in almost all conditions except maybe heavy snow (see below). Each one lasts about 18 months in continual use (rather more than the manufacturers say).
A good double air bed, with a spare, is essential – and can be bought cheaply in autumn sales. These are better than cushions etc., because…
It is remarkable how much condensation builds up (and then pools) on the floor over a period of a few months. We spent ages trying to find where the leaks were before working out that it was created simply from breathing.
Old airbeds make great floor insulation – which does significantly reduce the condensation problem, so don't throw them out.
Things will get damp as a result, so regularly changing things and not taking into the tent anything very valuable is a good idea.
A phone is a must. He may not be far away, but if it does snow and the front of the tent collapses as a result you do need to be alerted to the need of digging him out.
The local press, and even TV and radio, will be very interested (for some reason). Be prepared. In retrospect some media training would probably be a good idea…
Camping in the backyard and sleeping in a tent all year has no affect on any enthusiasm to go on camping holidays in the summer, or weekends away with the scouts!
The tent will only ever get a hole when it is dark – but Gaffa tape is wonderful!
Care needs to be taken when cutting the lawn. Tent pegs and guy ropes do not get on well with lawn mowers!
So – if you want a healthy, independent, media-savvy teenager who gets up on time every morning then it's simple. Rent out his room and put him outside in a tent every night. It really works!
Author: John Birch
Edited By: CampTrip.com