Camping in Scotland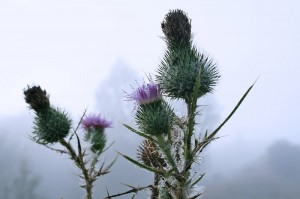 Many visitors only see the Scottish highlands through the windows of a tourist coach, and might as well be watching television. The only way to really know the country is by putting boot on rock, with your tent on your back. But there are some things you need to know about Camping in Scotland.
Legal
Unlike England, Scotland has always had a traditional right to roam and this is now enshrined in law. So you can walk, paddle and camp overnight almost anywhere you want in uncultivated country, providing you act responsibly. Deer stalking (the local term for hunting) takes place mainly in late August and September, and during this time a call to check the access situation with the landowner is courteous. Google the Scottish Outdoor Access Code for more details.
Non locking pocket knives with a blade under three inches are legal except in courts, schools and airplane cabins. Although you can carry a lock or sheath knife in the countryside if you can demonstrate good reason – and camping is one – the onus is on you to prove this in court. That's sure to ruin your holiday.
Weather
Scotland extends north to 60 degrees of latitude – only 400 miles from the Arctic circle, and as far north as parts of Alaska. But the country is warmed by the gulf stream, so the biggest lochs and rivers are mostly ice-free in winter. It can still get surprisingly cold in summer – Billy Connelly once claimed that Aberdeen is Gaelic for hypothermia – so dress accordingly. And it has been known to rain occasionally here, though the east is much drier than the west. It's said that if you stand at the Kyle of Lochalsh on the west coast and can see the Isle of Skye, it is sure to rain. If you can't see Skye, then it's raining already.
Wildlife
North America has rattlesnakes and grizzlies. Scotland has midges. Let me tell you – you guys are lucky. Your black flies and no-see-ums are annoying, but the highland midge Culcoides impuncta is known to have driven campers to the nearest hotel in desperation. They don't like wind or bright sun but on a still summer evening there will be millions of them gorging themselves on any exposed flesh.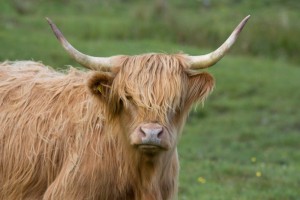 Take repellent (I favour 3M Ultrathon), a midge net and anti-histamines. Tent mesh fine enough for no-see-ums will defend against midges too.
In summer, Scottish television weather forecasts are often followed by a midge forecast. Ticks are another hazard, and they can carry Lyme disease here, just as they do in the USA.
Remove any ticks as soon as you find them with fine tweezers or a tick removal tool. Don't use alcohol or a burning cigarette.
The only poisonous snake is the European adder. You are unlikely to even see one, and fatalities are vanishingly rare.
Bothies
A bothy is a simple unlocked shelter in wild country that is free for anyone to use. There is no booking system; people just turn up and use it. There is sometimes a fireplace, but no electricity. You typically sleep on the floor and the toilet consists of a spade and a notice asking you to walk at least 300 yards with it. Google Mountain Bothies Association for details.
Whisky
I am reliably informed that in America they distil whisky from, er, sweetcorn. You'll forgive me if I lie down at this point. I don't feel well. When the walk is done, and the tent is up, there is nothing finer than a dram of Scotch whisky while you gaze on mountains in sixteen shades of distance. The stuff labelled as 'single malt' is made the old way – from barley malt, in small batches, in a pot still, and aged for ten years or more. You might be puzzled that several distilleries all claim to be the oldest in Scotland. That's because our tradition of illicit distilling is even older than yours, and records are indistinct.
Author: Peter Ewing
Edited By: The CampTrip Team