Don't Get Bored in the Great Outdoors!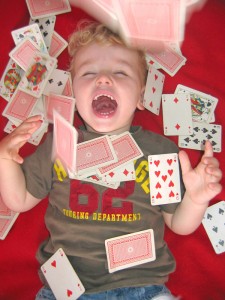 "But Mum, what are we going to do all day?"
The first time I told my girls that we were going to stay in a field for a week and sleep in a tent, their initial reply in unison was: 'But Mum, what are we going to do all day? There are so many things to do while you are camping and with a little imagination and a lot of energy you can have a jam-packed nature-filled camp trip… we do! Here are some ideas to ensure that you don't get bored in the great outdoors!
 It's All in the Game
Depending on the weather there are many games that can be played outside your tent and around the campsite.
Hide and seek, tug of war and tag are great ways to get the kids running around and having fun!
Organise a treasure hunt. Hide things around the campsite and give the kids clues as to where they are, First one to collect all the items on their list… Wins!
Bored games and jigsaws are great for a rainy day.
A good old fashioned game of 'Snap!' is a great time passer and lots of fun too, so remember to take a pack of cards on your trip!
Football and rounders are great team games to play, also a good way to get the kids to socialise with other children.
Mother Nature
One of the best things about going camping is the chance to really enjoy nature and the great outdoors.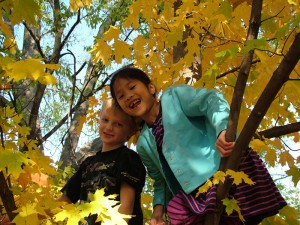 Why not go bird or plant spotting to learn about nature?
If you are camping near a beach you can go rock or shell hunting to start a collection, my little ones often include crabs in theirs!
Take a compass along and plot a map: 50 paces south, 100 paces north ect… go treasure hunting for a hidden prize.
Collect leaves, twigs and acorns to make a collage back at camp.
A magnifying glass and a jam jar or margarine tub with holes in the lid make for great 'bug catching kits' for your little exploreres and will keep the children occupied for hours searching for bugs, beasties and insects!
Going sightseeing while camping can be as easy as just taking a walk. Research your camping area before you go so that you know about any special sights you may want to include.
Use twigs, rocks and dirt to create a mini cabin for squirrels or a tiny village for ants.
Rain, Rain, Go Away!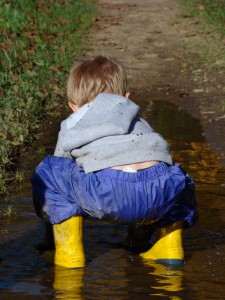 'It never rains but it pours!' Heard this saying before? Well that dosn't mean you have to let everything come to a standstill! Don't get board in the great outdoors with these fun ideas for a rainy day;
Pull on your wellies and raincoat and go for a walk in the woods, a bit of rain never hurt anyone!
Get the kids to place some pots or empty containers outside the tent to collect the rain water. They can be decorated before hand with pens or crayons. Placing some leaves or petals in the pots will make cute little water gardens as the rain accumulates.
Take time to relax. You're away from the hustle and bustle of busy life when you go camping, so take some time to relax. Try sitting back and amusing yourself by picking out shapes in the clouds, telling stories or just spend the time chatting with your fellow campers.
If you feel like being a little creative on your camping trip, you may want to bring a few supplies with you. Bring a notebook, sketchbook and some colored pencils so you can keep a nature journal to record any plants or animals you observe.
Jumping in puddles a sure fire way to get the little ones giggling!
Happy camping!
Author: Rosie Austin
(The CampTrip Team)