A Camping Misadventure: The Perfect Failures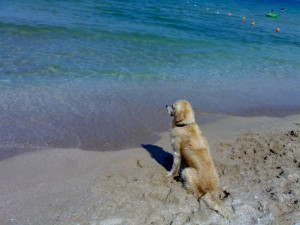 Mmmm camping. The crisp pine-cone incense surrounds me, the feel of forest floor between my toes, the mystery of freshly falling fog…
Smudge. Five-year-old Leslie walks across my perfect picture with our mud-pawed retriever, Rocky, in tow. With twinkling jade eyes and a smile that's too pure to pay for, he exclaims, "We're going camping!"
We? I hope Mom and Dad knew what they were talking about.
That breakfast all five of us made noises and hoots about the idea. My noise was mostly cries of dismay. We had never gone camping before and, despite my spontaneous parents, I liked to have things planned beforehand.
A Camping Misadventure
We packed our rucksacks, taped our tents, and bussed out into the wild.
Hiking to our Campsite
Dad led the march blowing his Boy Scout whistle. Leslie hopped behind him with Rocky; mom snapped random photographs; and I lagged in the distance, "connecting" with nature.
Occasionally, I reflect on this episode of my life as a learning experience. This, though, is usually followed by a sigh. Most of us seem to like learning the hard way.
After hours of following the forest trail and fighting thorn-bushes, everyone had scrapes and blisters. Mom had the brilliant idea to smear soap inside our socks; surprisingly it did help to prevent more blisters.
The First Water Mishap
We found an enclave to 'set up shop' as Dad dubbed it. It was located in a clearing surrounded by beautifully poised white pines and a trickling brook. Before we had even finished unloading we heard a splash. Leslie and Rocky were springing about in the stream. Soon we were all joining in on the fun.
Soggy, dripping, but laughing ourselves silly, Dad announced; "Let's start our bonfire!"
Dusk had already draped herself over us and we were anxious to get out of our wet clothes before dark.
Dad froze in his merry project of collecting branches as his mouth dropped. "The matches are in Leslie's pocket!"
He was right. Our hopes of high and musical flames were instantly dampened.
If you ever find yourself in such a miserable situation, however, something I discovered much later, is that if you coat your matches in nail polish they become waterproof.  But I imagine any camping intellectual would not have swam with his matches in the first place. Read How to Waterproof Matches.
That evening we ate a cold and silent dinner of boiled eggs and ham.
Rocky went wild every time Leslie shone the glow sticks
across the trees. If you aren't charmed with the idea of a five-year-old toying with your flashlight, these are always a practical alternative.
The temperature dropped unexpectedly for this time of year, so we pulled out our sweaters and began to unravel our tents. Comfort-concerned mom had brought zip plastic bags and filled them with air for pillows. It was a consoling sleep that awaited me.
Rain, Rain Go Away
Again, I was wrong. No sooner had we lain down in our tents when it began to rain as though the entire forest decided to weep all at once.
Dad had forgotten to hose down the tents to check for holes before packing them. Little leaks drip-dropped on Mom's and my face and knees and we heard the helpless boys shrieking in their tents. They got to work as we held up the flashlights, digging a moat in the mud around the tent to prevent an overflow.
Finally the rain died down, and we retired to our tents at last, struggling to stay positive despite the many "wonderful" mishaps.
The Attack
We had more visitors shortly after: Mr. Mosquito and his band. We fought the fuming fellows as best we could but ended up hitting each other in the dark. Mom remembered a remedy from Grandma, which was to rub the inside of an orange peel on our skin. We tried this and eventually the blood-thirsty invaders moved on to more submissive victims.
Thankfully we were wearing synthetic sweaters instead of cotton, or we would have undoubtedly caught the chills.
Nature Won This Round, But We'd be Back!
The next day, sleep deprived and sulky, we agreed to return home. Dad looked like some kind of creature with red polka dots covering him from head to toe; Leslie seemed to think this was very funny.
While packing up our things, we stopped to realize that this had probably been one of the worst adventures of our lives something more like a camping misadventure. Then, we began to laugh. We laughed until our stomachs ached.
As we trudged to the bus stop, I put my arm around Mom and chuckled, "Next time let's bring a manual."
Author: Theresa Koltes
Edited by: CampTrip.com