Camping Cues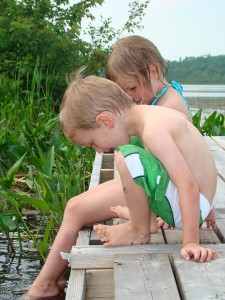 Camping is in my blood. From the time I was just an infant, my parents took me camping, along with my two younger brothers as they joined the family. We lived in the near-wilderness of Northwestern Montana, where the emerald pines stretch as far as the eye can see, and the sky is so close it seems you could dip your finger in it and taste the fresh mountain air.
Now I have my own children, aged ten and twelve. They love camping as well, although our version has evolved somewhat from the primitive, campfire and tent camping my parents practiced. My Mom used to cook over an open fire, on a grate balanced on two rocks. I prefer the safety and ease of a propane grill, which starts with the push of a button. While tents are fun, we enjoy the relative luxury of an enclosed camper.
No one can deny the pleasures of a campfire, and we light one every night in our fire pit. I leveled the ground, placed flat bricks and put a large ring of concrete blocks around the pit to keep it safely contained. I added two torchlights, filled with oil treated with citronella, which repels mosquitoes that can carry the dangerous West Nile Virus. Below I will share with you some of my camping cues to help you make your next camping trip the best one yet.
Camping Cues Just for You:
Camping can mean anything from hiking into a wilderness and pitching a tent, to driving to a lake cabin with all the amenities. Whatever version of camping you choose, there are several things to make your experience joyful and fun for the whole family.
Camp Setting
Nature and the beauty of the outdoors is the number one reason families like to go camping. Pick a favorite spot or get out a map and discover someplace new. Remember to factor in the transportation costs and the time it takes to get there. Pack snacks and fun travel games to keep the trip pleasant.
Water in the Area

If your chosen site has a nearby lake, fishing pond, pool or stream, you are in business! Everyone appreciates the sound of running water, and it can be a great place to cool off and unwind. Just remember to follow all posted rules and put safety first. Young children should never be left unsupervised around any type of water.
Camping Shelter
Tents are a popular choice, and they range from a modest "pup" tent to giant three-room structures that take a team to erect. Your best bet is a sturdy, easy to assemble tent in a size comfortable for your clan. The best time to buy is in the late autumn, when prices are slashed up to 90% off. Bonus hint: once you get the poles set up properly, color-code them with different colored stickers. The next time you put up the tent, it will be as easy as matching colors!
If you prefer a recreational vehicle, or RV, you will need to find a campsite that has hookups for water and electricity. You can easily find these on state maps, at the Visitor's Center or Tourist Bureau in the city you are interested in. Often, gas stations will carry this information as well.
A third option is a permanent campsite, with a stationary trailer or camper. This is a popular option for families that like to "get away from it all," but still have easy access to bathrooms, clean water, swimming facilities and designated campfire sites. Our family chose this option, after my husband suffered a disability that makes traditional tent camping too difficult.
Camping Food
Whether you plan on catching your supper from a stream, or cooking hot dogs over a campfire, food is a big part of the camping experience. Everything tastes better when it is cooked outdoors, and everyone's appetite is peaked. Pack lots of snacks and on-the-go food so no one gets stuck cooking all day.
Camp Clean up
"If you pack it in, pack it out." I still remember those words, etched on a sign at every campsite we visited as I was growing up. Never leave trash behind, as this can attract unwanted wildlife and make it unsafe for those campers who come after you. You can minimize your trash by choosing paper plates, cups and bowls. Instead of washing, simply toss in the fire. Bonus hint: Styrofoam or plastic dishes are not recommended because they give off toxic fumes when burned.
Fun Activities
The best part of camping is the fun you can have as a family. Go hiking in the woods, splash in a stream, count the stars or sit around the fire and tell stories. Getting back to basics is the backbone of camping, and when you do it with the ones you love, it is magical.
In today's modern society, camping is an old fashioned, but much-loved activity that can bring families closer together, as they explore nature and take time out from a stressful schedule. Use these camping cues to plan a trip this summer, and your family will create lasting memories.
Author: Shaunna Privratsky
Edited By: CampTrip.com