Camping Champion!
Kate and I made our merry way to the Petta Fiesta gig in Pettaugh with confidence and excitement. On arrival we found the designated camping area, removed the borrowed and previously unwrapped tent from the carry bag. Once successfully pitched we crawled inside its purple, flower embellished sheets and considered our open mic performance booked for the next day. Here are 10 tips on how to become a camping champion…
Tip 1: If someone has volunteered their camping goods for your weekend away, ensure, before leaving that the equipment is suitable for grown ups and designed to protect you from the elements.
Tip 2:  Love the person you are travelling with and ascertain before hand how much they love you. Spending even one night next to a human being who hates you will not relieve you from the cold and blowy conditions you may find yourself exposed to. Posh nighties are a no no, even when worn with flight socks drawn up to the knee.
Tip 3:  Take along warm clothes. Many people in England are happy to expose themselves at organised festival events. If the mood takes you, you can always leave extra garments in the tent.
Tip 4: Keep hydrated at all times and keep a spare bottle to hand if washing facilities are limited. Wet wipes are a life saver for those of us with hygeine needs. You will find that standard porta loos do not flush with running water or have taps. They may however have mirrors on the largest wall.
Tip 5:  Don't look in the mirror unless you are happy you will come out unscathed. Camping can be a trying experience if you are ill prepared. Try laughing at what is reflected back, and consider how far you have come over the years.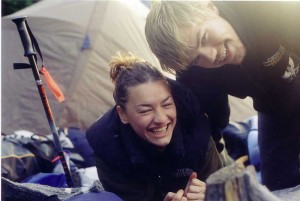 Tip 6: Flip flops are very good for sneaking out of the tent quickly to get the morning wash done before anyone else wakes up. Remember who you are and respect other people also there for the duration. Talking to strangers is more difficult when travelling in a group, however participating will improve the overall experience.
Tip 7:  If taking a guitar keep it in a hardcase to protect it from cold.
Tip 8: Pre arrange transport back and carry funds in case things change.
Tip 9:  You can refuse to use the on site toilets but eventually your bladder will relent. Cranes will be used on the last day to take away the toilet you may be inside at said time. Take a friend along to attract attention if this happens.
Tip 10: On completing all these elements you may well call yourself a camping champion! 
Author: Jay Wilkinson
Edited By: The CampTrip Team