When Cows Attack!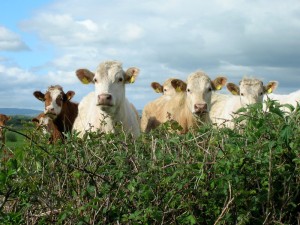 Convinced Martians had landed, as something tried to eat my tent at five in the morning, I realised that five very large cows were attacking…
"In true Brit fashion I charged. Yelling threats like "Shoo!" and "Go away," They ignored me.
It was obvious I didn't speak cow language.
The tent was looking decidedly weak as a brown and white cow trod on the bottom of the door. I courageously pushed one cow and ran away quickly. Did cows charge? Did they eat flesh?
Fellow campers were looking on from their tents, some keen to help, others disgruntled. "Go back to sleep!," yelled one annoyed soul.
I had a brainwave. I mounted my old bike and went off towards the corner of the field to where a path led towards the distant farm. The cows slowly followed. I had triumphed!
My tip to anyone who is battling a cow attack is to show them the path to the milking shed. Better still check the gate to their field is shut and preferably locked as well.
Author: Gail Landon
Edited By: The CampTrip Team