Winter Camping Clothing Checklist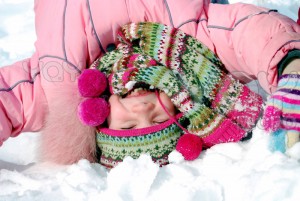 When winter camping, dress in layers so you can easily adjust your clothes to regulate body moisture and temperature. Three types of layers are considered normal: a liner layer against your skin (undergarments), an insulation layer (fleece or wool), and a water/wind proof outer layer (outerwear).
Winter Clothing to take when Camping:
For winter camping, don't pack cotton clothing. Cotton loses its insulating qualities when it gets wet (rain or sweat) and takes a long time to dry. Wool or synthetic materials are much better suited to winter camping in cold weather conditions.
Protect against heat loss through your head by wearing a toboggan, balaclava, etc. Over half of your body heat can be lost through your head.
A balaclava helps protect your face and neck from cold and wind. It can also be worn as a toboggan or scarf.
Gaiters are another warming layer for both your feet and lower legs. They'll keep snow, rain, etc. out of your boots and help keep your feet dry.
Your boots should have waterproof outer shells (such as oiled leather or plastic). A shell will prevent the outer layers of your boots from absorbing water (which would freeze and leave your feet to freeze as well).
Do not wear too many pairs of socks. If the blood flow to your feet becomes constricted, your feet will get cold regardless of how many socks you have on. Tightening your boot laces too tight will constrict the blood flow as well – the same goes for glove liners, too.
Attach security cords to your mittens to prevent losing them in windy or snowy conditions.
Carry extra gloves or liners and extra socks to change into once your first pair gets wet. Gloves and socks can be dried out overnight in your sleeping bag.
Head, Shoulders, Knees and Toes (or something to that effect)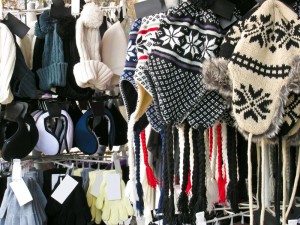 Head/Face:
Wool/Fleece balaclava or toque
Brimmed hat
Ski/Glacier goggles
Sunglasses (UV protected)
Insulating hat, cap or headband
Fleece toque (reserved only for sleeping)
Face mask
Face gaiter or head sock, wind proof
Handkerchief or bandana or buff
Body:
T-Shirts
Medium weight shirt or sweater (wool or polar fleece)
Heavy weight jacket or sweater (wool or polar fleece)
Fleece vest
Belt or suspenders
Vapor barrier/Pile shirt (one that wicks moisture)
Legs:
Medium weight pants (Fleece)
Wind/Rain pants (nylon or Gore-Tex)
Waterproof shell pants
Pile pants (wicks moisture)
Wool/Polar fleece pants (heavy weight)
Wind pants (Gore-Tex)
Insulated over-pants or bibs (wind/water proof, breathable)
Hands:
Gloves (fleece/pile/wool)
Mittens (fleece/pile/wool)
Over-mitts (Gore-Tex)
Glove/Mitten liners (synthetic, polypropylene)
Work gloves
Ski gloves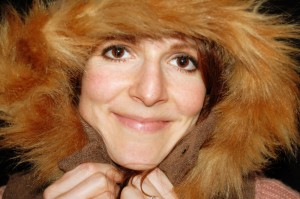 Feet:
Liner socks (Polypropylene)
Heavy socks (wool or fleece)
Sorel or other winter boots (with spare liner and removable booty)
Hiking boots
Main socks, liner socks, spare socks
Medium weight socks for sleeping
Vapor barrier socks
Wool / pile socks (heavy)
Mountain boots (with waterproof outer shell)
Ski boots
Snowshoes with binding & snowshoe crampons
Gaiters (to keep snow out the hiking boots)
Undergarments:
Regular underwear
Wicking underwear
Long underwear (Polypropylene or equivalent heavy material)
Expedition weight (fleece) long underwear (for sleeping)
Expedition weight (fleece) long sleeve undershirt (for sleeping)
Long undershirts (Polypropylene or equivalent heavy material)
Silk long underwear (it breathes well and dries quickly)
Outerwear:
Gore-Tex or nylon rain jacket with hood (must fit over stacked layers)
Polar-Tec/Fleece jacket
Heavy wool sweater
Waterproof-breathable shell jacket
Light hiking pants to wear over the fleece pants (for shedding snow)
Insulating wool/Pile sweater (or jacket)
Winter parka with hood and ruff (synthetic fill, nylon or Gore-Tex shell)
Pocket warmers
Anorak wind parka
This checklist is a guide to your packing and winter camping needs. Not everything in this list is going to be necessary for your expedition, but "spares" of everything (socks, gloves, pants, etc.) are recommended. Nothing dampens spirits quicker than damp clothing…hypothermia's no fun, either. For a complete Winter Camping Checklist of all you could potentially bring on your camping trip (depending on what you need) read the Winter Camping Checklist.
Author: Kirsten
(The CampTrip Team)