7 Ways to Entertain your Kids While Camping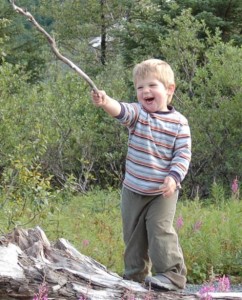 It's a nice weekend so you and your spouse decide to take your kids on a camping trip. So you pack up your things and off you go. After getting everything unpacked and set up at your campsite you realize, you didn't pack much for the kids to do while on this adventure. You think to yourself what are they going to do the whole time. Well, here are some helpful tips to entertain your kids while camping.
7 Activities for your Kids while Camping:
Let them help you collect firewood. I used to take my son down the trails and have him pick up some twigs. Yes, the pieces were small, but we all know when starting a fire small twigs are the best to use. There never seems to be enough wood.
Have them collect pine cones. Just something fun to do. Make it a contest to see who can collect the most. They also are a good fire starter and make pretty colors when put in the fire.
Take them fishing. If you packed fishing gear, all kids like to go fishing.
Take them for a walk in the woods and show them all that nature has to offer. Share with them outdoor knowledge so they can learn something handy and new. Be careful on letting them touch certain leaves, you don't want them to catch poison ivy, sumac or oak.
Play Hide and Seek and around the your campsite/campground just make sure you set boundaries and off limit zones (if necessary).
Have them collect rocks to help build a fire pit (if your not camping in a campground)
If there is water nearby have them play in or with the water. Kids can spend hours upon hours playing with sand or being in the water. Just be sure they are supervised.
If Camping, Experience all Camping has to Offer
From my experience with taking my kids camping, and being a child myself I find that even if you think there is not much to do, nature always seems to become the entertainment. Being in the woods is  an adventure in itself and learning about all the trees, plants and wildlife is not only educational but also entertaining. In my opinion, you never really get a true experience of camping if you're camping at a campground. Go out in the woods and experience nature for what it really is.
Kids love to camp. I know as a kid I always looked forward to weekends going camping with the family, as do my kids. Let nature entertain your kids while camping. There is always plenty to do with keeping your kids entertained, its just up to you to find that something.
Author: Katrina Burnell
Edited By: CampTrip.com
If you have any additional ways to entertain your kids while camping or comments we would love to hear them! Please add them in the comment box below. Thank you for sharing.
Please also read How to: Prepare your Kids for Safety While Camping.