Camping…Under the Table!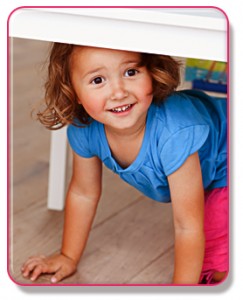 Do you remember when as a young child you crawled under the dining room table and found a magic space underneath, smudgy dark, warm, and safe?  Then your mother would throw a blanket over the table top  draping the hard wooden edges to a softened landscape which hid you beneath it; and as your new world dimmed the excitement would intensify.
Camping…Under the Table!
Enter: The Fantasy Realm
Baby brother would clamber in and the two of you set off to new adventures, a king in the realm of the hidden and magic spaces where you knew that adults existed but as a child you thought they couldn't see you so it meant you were…. invisible.
Here you bossed your baby sibling, the boundaries were only within your imagination and you ruled with kindness and fairness, sharing the biscuit you had carried with you after lunch now nibbled by you both overseen by you in the role of kind dictator.
Baby brother would have to lie down at your command to peep through the curtain of blankets to check no wild dogs would come sniffing by or crocodiles would eat you as they always did in stories your Dad read to you at night whilst you worked on your navigation skills deciding on which adventure trail to embark upon.
Setting out to Sea
As commander of the exploits, it was you that created the game of sailing in a tent -covered boat through shark infested waters, nibbling on the red and yellow building blocks pretending they were bacon and eggs and sipping toy tea from plastic beakers as of course that is precisely what you would do on a boat at sea.
All Aboard!
Giggles would fill the small space as teddy bears were dragged in from a nearby corner and they were instructed to help the vehicle that had once been a boat transform itself into a train. Squeals, shrill whistles and chuff chuffing noises would emit noisily and little voices for the teddies were made up as they sat in the cheap seats losing their tickets and watching the view from the window as the train sped quickly through the desert, or was it Chichester or the North Pole?
End of the Day, but the Beginning of a New Adventure
As the air warmed in the makeshift tent, the day progressed and the sun slowly set. Baby brother would gently snooze lying as a little nuisance in the middle of the floor so nothing could be done other than to lie beside him and cuddle him so that marauding tigers would not find him, and if they did you knew that you'd have to fight them off to protect your baby. The gentle aroma of supper being cooked would permeate through the jungles and vast seas into your little tent and bring your parents together smiling as they peeped in to see you both safely asleep in your own little camp before they had to wake you gently for bath time. Where surely the next adventure lay?
This indeed was where your love of camping was born.
Author: Julie Harries
Edited By: CampTrip.com